Musical Theatre
Reviewed by Alvina Ruprecht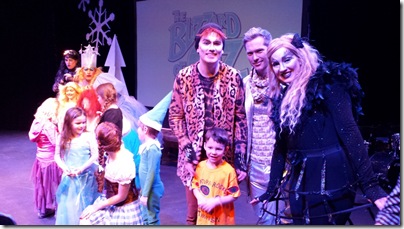 Photo, Andrew Simon. After the show with the audience!
This time the choreography is slicker (with such numbers as Gotta Get Home, Steppin' Time and Popular) the singers feel more confident, the acting is top notch, the writing takes the young and less young into account and the audience is perfectly integrated to the point where it knows its lines ahead of the performers!!  Oh yes, Panto  has come of age at the Gladstone and it was the greatest of pleasures to see this vibrant and bouncy cast, under the direction of Ken MacDougall,  hit the spot, with the small tots, the parents and  the grannies alike. They all yelled,  booed and shrieked when the wicked green witch slid into view with her the broom and her shifty snake-like eyes, or the snow monster loped across the stage. Such vile creatures, but such fun.
The story of Blizzard of Oz is similar to the Wizard version except that the tornado becomes a giant snow storm , and it all takes place right in  the Ottawa area. The storm strikes the  town of Ozaboza  (Cazabazua ??), where  Aunty Hem (a revamped Cara Pantalone with a gorgeous head of tangled red curls and most beautiful voice)  and her strong willed  niece Dotty  (played by a  feisty  little Émilie O'Brien) live on their 150 year old farm…exactly the age of Canada…what a coincidence!! . Dotty is transported away by the storm  into the middle of  Ottawa where she meets other displaced persons : the Faircrow, Bob cat and Al Loy – the tin fellow who has the heart of pieces of money. From then on their only desire is to get home..wherever that might be.
07
Jan
Posted:
January 7, 2017 Saturday at 11:41 pm