Montreal Fringe 2013
Reviewed by Maja Stefanovska
Alex Cross and His Rise to Fame is a story rife with conspiracy theories, sex, drugs, and rock and roll. Yet, for all this, it fails to come off as edgy or sexy. Playwright and director Franco DeCrescentis gives us the story of Richard Dick (Kenny Streule), a talentless, pathetic boy who wants to be a rich and famous superstar. The devil, seeing a chance for gain, approaches him and, soon enough, he is transformed into Alex Cross, an ultra-famous front for the devil's intentions, which revolve around controlling the world through the Illumanti and entertainment industry. That the story isn't very original can be forgiven – it's an interesting concept and one that has potential. Unfortunately, the play never quite lives up to its potential. It's too long and the acting is too uneven to make a cohesive show- it bounces from a well put-together performance to something reminiscent of a high school play.
29
Jun
Posted:
June 29, 2013 Saturday at 9:06 pm
Reviewed by Maja Stefanovska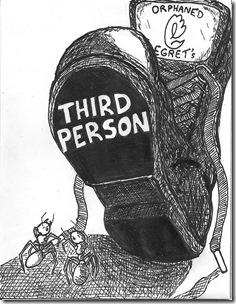 At some parts, Third Person feels a bit like what I imagine sitting down with Descartes and arguing over the nature of self-determination would be. And I mean that in the best way possible. Brandon Wicke's play has us situated somewhere with George (Kevin Ray), Byron (Nic Turcotte), and their tent. We never find out where they are or what they're doing there. They are constantly tormented by a "third person," an undefined other who writes them messages and seems to know their deepest fears and exactly how they're going to react in response to everything it throws at them. At first, the effect seems to be most profound on Byron, the seemingly weaker one of the duo, but it soon become evident that it is actually George, who at first seems like the caretaker, that is effected the most. The third person torments him with questions of his own autonomy – how can he have any control over his actions if this other always knows exactly what actions he's going to take? It's a classic battle between Determinism and Indeterminism and it's by no means the only play of its kind. Yet, the production still manages to feel fresh and bring something profound to the table. The idea of the proverbial writing on the wall is a good one, especially since Wicke decides to add in elements of humour and playfulness.
29
Jun
Posted:
June 29, 2013 Saturday at 9:04 pm
Reviewed by Maja Stefanovska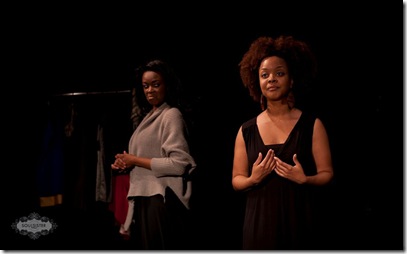 Single Black Female (SBF for short) is a two woman show that takes on the lives of two African-American middle class women, a professor and a lawyer, trying to find love in the modern world. The play touches on race, class, as well as gender issues, all wrapped in a highly entertaining show. The piece wonderfully exploits the tension and camaraderie between the two women (Letitia  Brookes and Gara Nlandu). Brookes is the softer-spoken friend with a tendency to over-intellectualize things, while Nlandu is more loud and unafraid to tell it like it is. The women operate on two distinct, but complementary fields. Nlandu would benefit from taking her energy down a notch – sometimes her "acting" gets in the way of her character and can take away from the message. When you really feel a connection with her character is when she does relax and strip down her character. Having said that, she also has some of the funniest moments of the show.
29
Jun
Posted:
June 29, 2013 Saturday at 8:55 pm