Montreal Fringe 2-14
News from Capital Critics Circle
Reviewed by Kat Fournier
A group of kids meet on a beach in time for the eclipse. They are a wayward bunch of characters who are bent on enacting a surreal ritual; an invocation, of sorts, to the eclipse. But when a stranger arrives on the beach, their plan begins to go very wrong. The script, written by British poet Simon Armitage, is strange, repetitive, and hypnotic. It is nonsense verse, rife with bold imagery, rhyming couplets and riddles. A very tall order for this group of young actors, who unfortunately lose their footing in the demands of this challenging text. There are some really powerful moments where text, acting, and staging converge well. However, the staging is also hampered by clutter on the stage floor that interrupts the actors' movements.
Eclipse
Written by Simon Armitage
Directed by James Richardson
22
Jun
Posted:
June 22, 2014 Sunday at 11:08 am
News from Capital Critics Circle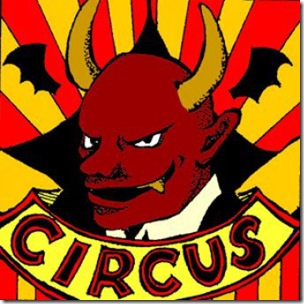 Reviewed by Kat Fournier
The Devil's Circus
The Wishes Mystical Puppet Company    Directed by Daniel Wishes
A "reimagined" comedic version of Orpheus and Eurydice's tragic love story. Here, Orpheus is a vain circus performer and Eurydice is his sidekick. After falling to her death from the high wire, Eurydice winds up in hell where Satan holds his own circus. This variety show is tied together by a loose narrative of Eurydice's and Satan's own love story and features a number of puppetry traditions from Shadow to Bunraku to tricked-out 19th century marionettes. The craftsmanship is quite remarkable though malfunctions with a number of the puppets hamper the overall quality of this production, as did the unsubtle manipulation of the Bunraku puppets. Look forward to the introduction of the multi-headed dog Cerberus; who knew a hell-hound could be so lovable.
16
Jun
Posted:
June 16, 2014 Monday at 6:37 pm