Capital Critics Circle Awards
News from Capital Critics Circle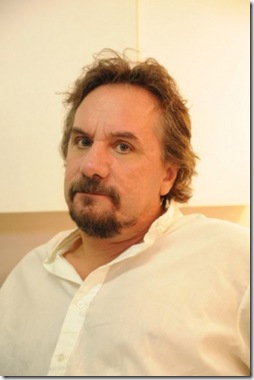 John Muggleton, winner of the Audrey Ashley Award.
Photo: David Pashko
During sparklingly classy ceremony hosted at Orpheus House by the musical theatre company,  The Capital Critics Circle today announced the winners of the thirteenth annual theatre awards for plays presented in English in the National Capital Region during the 2011-2012 season. The CCC instituted the awards in 2000 to honour the best in theatre on stages in the National Capital Region. The members of the selection committee for the 2011-2012 season English theatre awards were: Alvina Ruprecht, Patrick Langston, Jamie Portman, Rajka Stefanovska, Maja Stefanovska, Barbara Gray and Iris Winston.
The winners are:
Best professional production:
The National Arts Centre English Theatre/Belfry Theatre (Victoria, B.C.) production of And Slowly Beauty by Michel Nadeau, translated by Maureen Labonté, directed by Michael Shamata.
Best community theatre production:
The Orpheus Musical Theatre Society production of Titanic the musical, book by Peter Stone, music and lyrics by Maury Yeston, directed by Deb Miller-Smith, musical direction by Paul Legault and choreography by Val Keenleyside.
Best director (professional):
John Koensgen for The Player's Advice to Shakespeare by Brian K. Stewart and The Extremely Short Play Festival, New Theatre of Ottawa.
27
Nov
Posted:
November 27, 2012 Tuesday at 3:09 pm