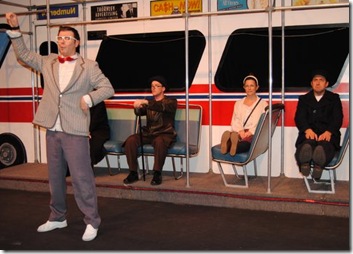 Photo Barb Gray
If you've never seen the Axis Theatre Company's clever and very funny production THE NUMBER 14, now's your chance. Originally directed by Roy Surette, this version in the show's 20th season of touring is directed by Wayne Specht and features six incredibly versatile actors from Vancouver. The piece was developed by a group known as The Number 14 Collective.
The series of improvisational sketches provide a hilarious look at a day on a downtown bus. Using wonderful masks created by Melody Anderson, inventive costumes by Nancy Bryant, (one robe has printed on it "William Blake slept here"), and their own mobile and expressive faces the six performers play over sixty characters. Enhanced by Pam Johnson's cartoon-like bus, Gerald King's effective lighting and Douglas MacAulay's excellent music and sound, the high-energy performers have the audience giggling and gasping to keep up.
As Director Wayne Specht says in his program notes, "The inspiration: commedia dell'arte, Monty Python, silent movies, Mr. Bean, vaudeville and ritual." It opens with a tightly choreographed seemingly endless stream of commuting businessmen. There's a little old lady who's thrown into an acrobatic frenzy when the bus moves, a coughing and snorting bum who's reminiscent of European clowns and a very literate rapper.
There are two elderly actors, Gluteus and Maximus, in a riotous Shakespeare parody that contains the memorable insult, "Thou unsexed marmot!" There's a hyper adolescent schoolgirl and a goofily enthusiastic singer. There's an Italian real estate lady who accomplishes the astounding feat of answering her cell phone while putting on pantyhose sitting down on a moving bus. All this is just the tip of the iceberg.
Director Specht has done some nifty staging. There's one sketch where five geezers on their way to Bingo transform into five kindergartners. It took me a minute to figure out what was happening. There's another sketch that gives new meaning to the phrase "turning the other cheek."
There's no real through line, other than the fact that all the characters ride the bus. If you saw it as I did about six years ago, you'll enjoy the additions in Act I and some new material in Act II. This is an opportunity to see a kind of comedy that is rare in the States. The material demands concentration from the audience even in the midst of laughter – and there's plenty of that. This is an evening of delight in the skill of the actors and the smart humor of the material. As Director Specht says, "This is a piece that celebrates the theatrical." If you miss THE NUMBER 14, you've missed the bus.
"The Number 14" plays at GCTC through December 16 Tkts: 613-236-5196
THE NUMBER 14
Written and Produced by the Axis Theatre Company
Director: Wayne Specht
Lighting: Gerald King
Original Music: Douglas MacAulay
Set: Pam Johnson
Masks: Melody Anderson
Costumes: Nancy Bryant
CAST
Chris Adams
Morgan Brayton
Stefano Giulianetti
Neil Minor
Tracey Power
Scott Walters