Burn: Muggleton and cast put on suspenseful, fun play
Burn: Muggleton and cast put on suspenseful, fun play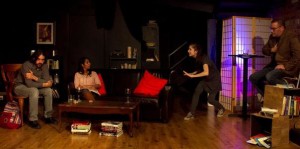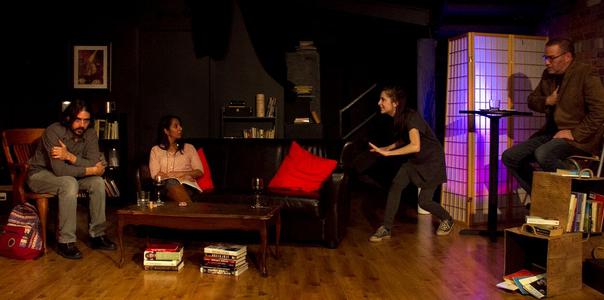 Burn
Written and directed by John Muggleton
Avalon Studio
Longtime friends Robert, Samira, and David meet after some time apart at the request of the daughter of their recently deceased friend, successful horror writer, Paul. None of the three friends know precisely why Eve, the daughter, wants to meet them, except to deliver something – whether it's news, a portion of their friend's will, or a package isn't clear. When she arrives, she easily and somewhat aggressively inserts herself into the conversation. Thing start quickly falling off the rails when she insists on telling her own horror (or is it ghost?) story, peppering it with unsettling secrets from Robert's and Paul's past. It's at this point that Robert, Samira, and David realize that there is something undeniably eerie about Eve. Although the script and directing needs some very minor fine-tuning, writer and director John Muggleton ultimately takes the audience from comfort and intimacy to the edge of their seats in suspense in, Burn.
It's obvious that Muggleton knows a thing or two about people – how they love, how they doubt, and what and how they fear. The play opens with a rather lengthy exchange between Robert (Chris Torti), Samira (Tahera Mufti), and David (Michael Thompson) as they wait for Eve's arrival. Although this section could be shortened a bit, there is a method to the seemingly slow pace. Muggleton, Torti, Mufti, and Thompson take the time to establish  characters and invite the audience into their private world. Empathy is a powerful drug and it's this intimacy makes the suspense and horror, when it does come, that much more powerful. Having said that, the same effect could have been achieved in less time.
Torti, Mufti and Thompson do an excellent job, using little gestures, shared jokes, and glances to create an easy entryway into their world. Mufti, in particular, is a nuanced Samira, a soft-spoken voice of reason with strength bubbling just underneath the surface. However, Meghan Carty as Eve is the one that steals the show. She builds her character slowly, but throughout, her very presence on stage is uncanny, her essence, particularly toward the end, unhinged. She throws herself, mind and body into Eve and it pays off.
Muggleton uses the relatively small space of the Avalon Studio masterfully. He transforms every nook and cranny to create a cozy writer's loft – the very ordinariness of which juxtaposes the insanity happening on stage. Muggleton also uses blocking to great effect, as he keeps the actors moving and places them on different heights throughout, in the process ensuring dynamic movement on stage.
There are certainly also a few rough parts of Burn. Muggleton understands how to create suspense, but there are more than a few unresolved threads in the story that end up being more frustrating than playful. Likewise, some scenes, such as the opening, could be shortened, as they drag down an otherwise well-paced play. However, overall, the skill of the writer, director, and actors come together to create a spooky, fun night.
Burn continues at the Avalon Studio to November 13.
Director: John Muggleton
Lighting: David Magladry
Cast:
Eve…………………………………………………Megan Carty
Robert………………………………………………Chris Torti
Samira………………………………………………Tahera Mufti
David………………………………………………..Michael Thompson