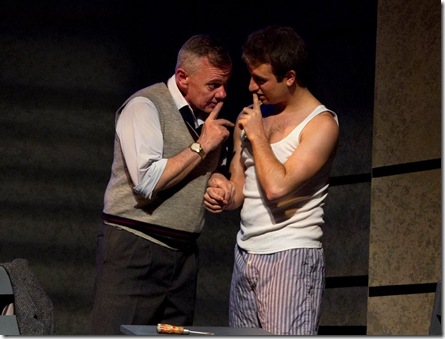 Photo. Maria Vartanova. Shaun Toohey and Tanner Flinn.
After the great popularity of The Imitation Game and the extraordinary performance of Benedict Cumberbatch caught in dramatic close-ups on the screen, Hugh Whitemore's play presents another perspective of Turing's life which capitalizes on the special conventions of the stage and creates a play that does total justice to this mathematical genius. This work, rather than foregrounding the Enigma research, gives a more well-rounded portrait of Turing's life and work, highlighting many explanations of his mathematical theories, his founding vision of the computer, of the future of digital technology as well as his work on deciphering the German code during WWII . The play also gives a much more in depth portrait of his personal life, his family relations and his sexuality which was to be his downfall in a stuffy, puritan British society that could not see the ridiculousness of its criminal laws regarding homosexuality still in force in the postwar era.
Shaun Toohey as Turing, produces a subtle, sensitive, nuanced performance that is sustained perfectly from beginning to the end. His nervous stutter, his difficulty in relating to those around him, his constant grappling with a mind seemed to be operating like a human computer, putting every statement into rational categories and trying to make it all fit. The play structure itself almost defies linear thinking as it jumps back and forth in time , creating a vast wholeness of this unique life, in a way that a mathematical genius might see the world. It even ends with his own statement that offers a highly creative perception about his suicide. As he states,  one can remove the body because the brain function is the only one that  matters in this life.
Obviously the chemical treatment he was prescribed by the British court did much to reduce his will to live but the performance takes us through a whole series of emotional situations and confrontations of all kinds, allowing the actor to mold a complex portrait of a complex human being. It moves from his prewar youth, to his working environment during the war to this postwar experiences and the ongoing inquest that is launched when he arrives at a police station one day, to declare he has been robbed. Turing is questioned by Sergeant Ross whose prodding brings Turing to the breaking point when he tells Ross all about his relationship with Ron, the "rough stuff" from the bar, played with a lot of sexual energy by Stavros Sakiadis.  After that admission, the persecution begins, and Turing's life falls apart.
There are many exceptional moments in the show where the writing and the actor fuse perfectly. At the beginning of part two, Turing addresses a group of students to explain the computer and the future in store for this wonderful mechanical brain that might even be taught to think. Toohey shows how Turing is suddenly transported into his own world of swirling formulas and mathematical calculations where his stuttering almost disappears, his speech becomes forceful and passionate, his need to communicate with people who understand him comes pouring out. This transformation takes place every time Turing speaks about his work whether he is talking to people at his own level or to those who need a more simple explanation. It is all captured beautifully by the ac tor in a way that makes us feel Turing's state of ecstasy each time he is allowed to soar above the daily drivel of the material world.
His first meeting with Ron in the bar was also an exciting dramatic moment as Toohey's face lit up, a nervous excitement stirred in his voice and he seemed to acquire an impulse that gave him the confidence to invite the fellow to his home. Each scene offered Toohey the chance to work out a different facet of this man's life and he accomplished it all beautifully.
His presence nonstop on that stage for almost three hours was so powerful that it showed up the weaknesses in the other actors . This play is all based on long verbal exchanges and each voice has to create a strong dramatic, moment but this was not always the case, especially when at times, it became obvious that certain people were acting.
Douglas Cuff ( Sergeant Mick Ross) is the detective sniffing out something he finds suspicious right from the beginning. He might have given a lot more bite to his performance. There appears to be a pointed text below the spoken one and it's the unspoken that should be allowed to rise to the surface very quickly, justifying Turing's uneasiness. I could say the same thing about Ron the friend from the bar. He needed a lot more insensitivity and roughness about him. The relationship is almost too sweet and it is important to show the difference between this fellow and Nikos ((Tanner Flinn) a Greek friend who appears at the end and whose Mediterranean temperament with its close physical contact and hugging, all part of what men do in that part of the world, created a warm atmosphere free of moral judgement and tension. Katie Buller as Pat Green, Turing's colleague was very good indeed, especially when she pleads with Turing about the nature of their friendship and realizes nothing between them is possible.
More irritating however were moments of Klaas Van Weringh's staging. Some of the important moments took place  squashed against the curtains. On the other hand, the play has a lot of rapid scene changes and at times the actors had a long hike to get to the wings. Would a more judicious use of lighting have been a better solution: ..just blackout the stage so people are there and then are gone, to avoid all that walking which had nothing to do with the play. John Solman's lighting was beautiful and , Robert Krukowski's choice of music and sound was fitting, even moving at times. Robin Riddihough's set design was a remarkable structure split in two spaces; one sent us off into the horizon of an infinite time, where Turing's discoveries were taking us . On the other side, he placed a dark wall, suggesting the closed space of the secret laboratory or the walls behind which Turing had to live his secret "criminal" life. The set did open multiple acting spaces to speed up the set changes but it created distances that forced the actors, at the end of some scenes to simply walk away awkwardly.
Nevertheless, this is an exceptional evening of intelligent theatre with an unforgettable performance by Shaun Toohey that propels him into the realm of one of the best Ottawa based performances that this city has ever seen.
Breaking the Code plays until May 23, 2015 at the Ottawa little Theatre 613 233-8948
Breaking the Code by Hugh Whitemore
Directed by Klaas Van Weringh
Set Robin Riddihough
Lighting John Solman
Costumes Peggy Laverty
Sound Robert Krukowski
CAST
Alan T uring Shaun Toohey
Mich Ross Douglas Cuff
Christopher Morcom and Nikos Tanner Flinn
Sara Turing Susan Monaghan
Ron Miller Stavros Sakiadis
John Smith Andrew McCarville
Willwyn Knox Robin Carter
Pat Green Katie Butler