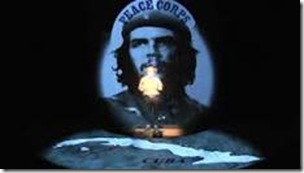 Photo: David Leclerc
The sound booms book-ending Rick Miller's packed ride from 1945 to 1969 are the world-changing release of the first atomic bomb on Hiroshima and the Apollo 11 moon landing in 1969.
The baby boomers, born, raised and living through those tumultuous years, are invited to relive their memories through Miller's lens, a combination of multi-media flashes, impressions (some more successful than others), comic twists and the stories of three people with very different backgrounds: Miller's mother, Madeline, originally from Coburg, Ontario; Laurence, an African-American draft dodger and jazz pianist; and Rudy, an Austrian who immigrated to Canada after the Second World War to become an advertising executive and illustrator.
As well as the kaleidoscope of political, cultural and social events with which Miller's Boom bombards us, replays of advertisements of the period — oddly amusing from the perspective of the 21st century — remind us just how much times have changed.
Yet the total picture that Miller paints also reminds us how much stays the same. Baby boomers or not, the circle of life repeats itself, as we grow from young conformists or rebels into the moulds of our parents.
Throughout, Miller's energy and fast character changes are stylishly executed and the swirl of activity (kudos to David LeClerc's projection design) hammers audiences into near exhaustion.
There are disappointments. While Miller's musicianship and his singing are extremely good — I would have liked to hear more of most of the songs, instead of mere snippets — they do not always sound like the person the sur-title projected onto the set column tells us is singing. For example, although his first impression of Perry Como offers one of the singer's best-known numbers, Miller's voice is simply not a Como reproduction. And he demonstrates that it is near impossible to capture Buddy Holly's famous vocal hiccup or even to duplicate Winston Churchill's or Harold Macmillan's voices. Original clips might have been more effective in these instances.
On the other hand, Miller does a marvellous job in his presentations of Janis Joplin and Pierre Elliott Trudeau and he almost captures the softness of Nat King Cole's voice.
Lighting, too, is sometimes a problem. The back lighting to present silhouettes periodically blinds the audience with harsh spots and the alternately often dim lighting causes some strain. By contrast, the highly effective pattern circles, for example falling dominoes or spaghetti pieces in tomato sauce, are among the most memorable images flashed before us.
Primarily intended as an experience in bringing personal memories into the arena of the history of an era, Boom may have most connection with the baby boomers, but it also has entertainment value and food for thought for pre- and post-boomers.
Boom continues at the National Arts Centre Theatre to March 12.
Projections………………………………..David LeClerc
Lighting…………………………………..Bruno Matte
Sound and compositions………………….Creighton Doane
Set, costumes, props………………………Yannik Larivée