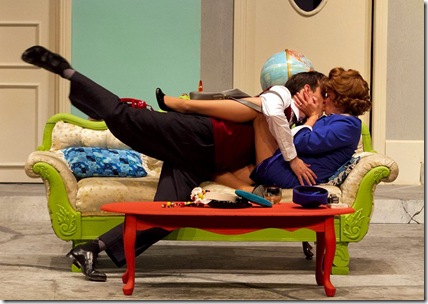 Photo: Maria Vartanova
A well-organized Lothario can handle three fiancées, as long as flight schedules do not change suddenly.
That might have worked in the 1960s, the time frame for Boeing-Boeing, but even then fight delays and airplanes being grounded in bad weather make the ride to infidelity very bumpy.
Marc Camelotti's farce set records as the world's most performed French play in the 1960s. The Beverley Cross translation ran for seven years in London's West End. The version currently being staged by Ottawa Little Theatre is Francis Evans' Americanized revision of the Cross translation. (It comes across as somewhat anti-American, particularly in its presentation of the New York feminist.)
Bernard, an American architect living in Paris, supported by his French maid, has managed to juggle his three air-hostess fiancées successfully because they fly for three different airlines on long-distance flights. (In the 1960s, they were usually known as air hostesses rather than flight attendants or even stewardesses.) But, shortly after Robert, an old friend from Wisconsin, arrives on the scene, the lover schedule collapses and it is almost certain that the American, German and Italian women are destined to meet.
As with any farce, Boeing-Boeing is heavily dependent on excellent timing and the availability of many doors. And, as directed by Shaun Toohey, the OLT production is noteworthy for its split-second timing — with one door closing as another opens.
It is also extremely important that the actor playing Robert should be a physical comedian as well as a strong performer. J. Taylor Morris is both in his delivery of a very funny and suitably rubbery Robert.
As the harassed maid, trying to accommodate whichever fiancée is present or expected, Andrée Benson is appropriately grumpy, while Crista Cullain (TWA), Kelsey Murphy (Alitalia) and Michelle Paré (Lufthansa) represent stereotypical national characteristics and tastes in food. Meanwhile, Ethan Pitcher, as Bernard, tries to hold his papier maché world together.
Patti Vopni's set design, while incorporating the many doors required and appearing light and airy, does not give the impression of being an architect's home. The colour clash between the light turquoise of the walls and the strong lime green paint on some of the furniture is particularly bothersome. (Perhaps Bernard is too busy with his love lives to pay attention to home design.) On the other hand, Peggy Campbell's colour-coordinated costumes work extremely well.
Despite the unnecessarily elongated opening and the closing sequences, lovers of farce are certain to find Boeing-Boeing very amusing. The OLT production continues to October 1.\
Boeing-Boeing
By Marc Camelotti
Translated by Beverley Cross (1962) and Francis Evans (2007)
Ottawa Little Theatre
Director: Shaun Toohey
Set: Patti Vopni
Lighting: Bryan Morris
Sound: Bob Krukowski
Costumes: Peggy Campbell
Cast:
Gloria…………………………………………….Crista Cullain
Bernard………………………………………….. Ethan Pitcher
Berthe…………………………………………….Andrée Benson
Robert…………………………………………….J. Taylor Morris
Gabriella…………………………………………Kelsey Murphy
Gretchen………………………………………….Michelle Paré