Boeing Boeing. Laughter Reigns at the Depot Theatre in Westport NY
Reviewed by Connie Meng
21
Jul
Posted:
July 21, 2013 Sunday at 4:39 pm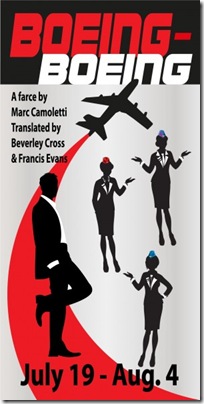 The production of BOEING-BOEING by Marc Camoletti currently running at the Depot Theatre is simply hilarious. It's based on a French farce. BOEING BOEING first opened on Broadway in 1965 where it lasted only 23 performances, but it went on to run in London for seven years. In 2008 it was revived on Broadway, garnered rave reviews and became a big hit. The only major change in the script is that the two male characters who were originally French are now American.
Seen now almost as a period piece, this sex comedy has an air of innocence about it and is loaded with physical comedy. The characters are pretty much deliberate stereotypes. Set in 1965, BOEING-BOEING is a comic valentine to an earlier and, seen in hindsight, much simpler era.The plot concerns Bernard, an American architect living in Paris, his three air hostess (cabin attendants these days), fiancées from three different airlines, his grumpy French maid Bertha and Robert, an old school friend who shows up unexpectedly. I leave the confusion to your imagination. No quotes from this one – it's giddy visual slapstick.
Jonathan Wentz's lovely two-level set has plenty of doors for the requisite slamming and is mid-sixties all the way, including a Mondrian print. I loved the interchangeable photos. The lighting by Isabella Byrd is bright and comedic while Jean Brookman's costumes are just fine, especially those for the air hostesses and Bertha's shoes. The sound by Jim Carroll is good, in particular the music choices.
This is a strong and balanced cast. Jaz Zapatos is good as Gloria, a caricature of the "in charge" American who flies for Trans Am. As Gabriella, the El Italia fiancée, Wilma Cespedes-Rivera embodies the stereotypical emotional and smoldering Italian. Marshall York is fine as Bernard, the lothario who gradually falls to pieces and is eventually hoist by his own petard. As Bertha, the French maid, Sandy York is very good, especially in Act II as her frustration with the shenanigans grows.
Jenny Strassburg is great fun as Gretchen, from Lufthansa. She's a wonderful natural comedienne and her constant switches from bubbly girlishness to Teutonic aggression are hilarious, as is her German accent that sounds as if it comes by way of Sweden. Adam Petherbridge shines as Robert, fresh from Ohio and obviously mind-boggled by the ladies. He's terrific with all the physical comedy, especially the back summersault off the couch.
Director J. Christopher Jones has put all this together with a deft touch. Early on Bertha's French accent was a bit difficult to understand, but our ears adapted. Mr. Jones' staging is excellent, particularly the "Aix" scene and all the physical business.
BOEING-BOEING is perfect hot weather entertainment. It's light, funny and just silly enough. In other words if you want to laugh a lot, go see BOEING BOING at the Depot Theatre. Aside from a good evening's entertainment, the theatre itself is worth the trip. On the eastern shore of Lake Champlain, the intimate theatre is in a historic train station that is still a stop on the New York-Montreal train. The waiting room is now the theatre lobby and still has the turn of the century wooden seats and ticket window, now the box office. From the platform there's a wonderful view of Lake Champlain. The Depot has been in operation as an Equity theatre for 35 years and does quality work.
BOEING BOEING runs through August 4. Tkets: 518-962-4449 www.depottheatre.org
BOEING BOEING by Marc Camoletti
Director: J. Christopher Jones
Set: Jonathan Wentz
Costumes: Jean Brookman
Lighting: Isabella ByrdSound: Jim Carroll
CAST
Bernard: Marshall York
Bertha: Sandy York
Robert: Adam Petherbridge
Gloria: Jaz Zepatos
Gabriella: Wilma Cespedes-Rivera
Gretchen: Jenny Strassburg