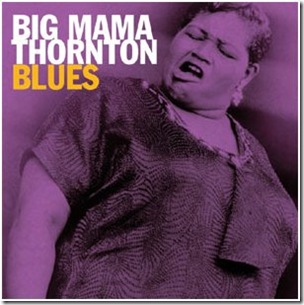 Ninety minutes in the company of Canadian singing icon Jackie Richardson is an experience to be cherished. And her current show, Big Mama/The Willie Mae Thornton Story, offers a seamless procession of memorable high points. You come away from the National Arts Centre still mesmerized by her rendition of George Gershwin's Summertime, so intense in its yearning, or exhilarated by the jaunty good humour of Hound Dog, a song that Elvis Presley was to claim as his own even though it had been preceded by an earlier groundbreaking recording by Willie Mae "Big Mama" Thornton, the fabled blues singer whom Richardson is celebrating in this memorable evening of entertainment.
Supported by Audrei-Kairen's script and sustained by her own formidable stage authority, Richardson is able to transport us back into a culture of racism and violence, of artistic struggle and achievement against tremendous odds. She is not only telling the story of Willie Mae Thornton, she is also re-connecting us to the origins of the blues, which means the institution of slavery, while also awakening us to the ironies of an Elvis or Janis Joplin getting rich on the ill-paid creative labours of non-whites.
Richardson is our irresistible companion and confidante in drawing us into an admittedly selective biographical narrative. She bounces onto stage in a man's hat and floppy trousers — Willie Mae's trademark apparel when she performed in public — and speedily convinces us that she's performing in a run-down bar on Christmas Eve. She is transfixing in her evocation of the past and in the warmth and generosity of her reflections. And the music, of course, is stupendous, thanks to Richardson's authority over the material and to the support she gets from her superb musicians — musical director Ron Casat on keyboard, Kevin Belzner on drums and the magical Tim Williams on guitar.
Yet, when all is said and done, we can never really believe we're seeing Willie Mae Thornton on stage — not in the way that Christopher Plummer inhabited the character of John Barrymore in his lauded one-man show or in the way Kurt Russell convinced us we were actually watching Elvis Presley in that justly celebrated TV movie.
It is not Richardson's fault that she is too powerful a presence in her own right to submerge herself completely into the character of Big Mama. The velvety, caressing voice, so astonishing in its range and register and so breathtaking in its emotional variety, is unmistakably the Jackie Richardson we know and love. Willie Mae was a powerhouse singer in her own right, with an uncanny sense of musical cadence, but her voice, for all its presence, was thinner and rawer — and, dare I say it, less resourceful
So it's best to regard this show as a musical tribute from one great performer to another. It proves a massive tribute. It is also, because of Richardson's empathy to the material and to the memory of Thornton, who died in 1984 after years of heavy drinking, a testament to the resilience of the human spirit in the face of huge odds.
Nevertheless, most of us venturing out to the NAC Theatre this month see it primarily as the opportunity to see and hear the great Jackie Richardson, not to hear about Big Mama. But we then find ourselves grateful to her for reminding us about the wonder that was Willie Mae Thornton. In the end, it's not a bad trade-off
Big Mama! The Willie Mae Thornton Story continues in the NAC theatre to May 11.
Director: John Cooper
Musical director and guitarist: Tim Williams
Drums: Kevin Belzner
Keyboards: Ron Casat
Set: Carole Klemm
Lighting: Martin Conboy
Costumes: Karen Levis
Cast:
Willie Mae Thornton…………………………………Jackie Richardson