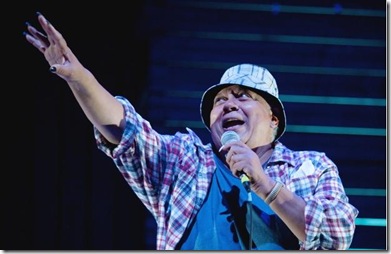 Photo: Tim Matheson
Jackie Richardson as Willie Mae Thornton
This show is several things! First it's a fabulous blues concert with drums, keyboard, guitar and the wondrous  Jackie Richardson, an internationally acclaimed jazz, gospel and blues singer in her own right. The sounds, the musical accompaniment by the three excellent musicians that fuse with Richardson's voice, backing up her performance as a singer will send you out into musical heaven because such a powerful concert of this calibre is rare in Ottawa
However, the show is also a theatre performance where the artist is an actress, inhabited by the body and voice of Willie May Thornton. Her body movement, her attention to physical detail as the singer who tried to look like a man but sang like the powerful goddess, as a fighter  who made her way from poverty and racial and gender prejudice to become one of the most important influences on popular music of our time.  Richardson brings that blues artist to life.  Through her choice of songs, the words, and her talk in between numbers, clips of film, her warm, in your face  interaction with the audience, she tells the story of Willie Mae's life, – speaking in the first person always, because she is Willie Mae. The illusion is almost perfect even up to Carole Klemm's Blues Bar set enhanced by Martin Conboy's red lights, orange spots and dramatic lighting that highlight the important musical and theatrical moments. It's all the perfect Willie Mae Illusion – except that it's Christmas, baby, and that's not where we are now, so the time element creates distance. That was also certainly the excellent idea of writer Audrei -Kairen because that's when we realize this is "theatre" and what a true genius this actor/singer/musician really is. She has transformed herself, the stage atmosphere, the music and even the audience by taking us to some faraway place, somewhere into the realm of legend! There could be no greater homage to an artist.
There were some special moments. The Hound dog rendering in the original style was exciting, Willie Mae's interpretation of George Gershwin's Summertime from Porgy and Bess that took on a deep sense of intimacy and sorrow as she gave it a heartbreaking blues treatment that had me in tears. There was the moment when she got the audience on stage to start dancing and among them, by chance – was Ottawa's own stage personality Bev Wolfe who pulled off a  dance number alongside the Diva, and the audience roared.
The blues legend comes to life; the singer who had such a strong influence on contemporary popular music was before us, thanks to Jackie Richardson's immense talent. Thank-you again and again Jackie Richardson. We will never forget you
Get your tickets right now before they disappear.
Big Mama, The Willie Mae Thornton Story plays until May 11.
A Production of the Belfry Theatre in Victoria, BC.
Starring Jackie Richardson
Musicians: Drums: Kevin Belzner
Keyboards: Ron Casat
Guitar: Tim Williams
Conceived and written by Audrei-Kairen
Director John Cooper
Music director Tim Williams
Set designer Carole Klemm
Costume designer Karen Levis
Musicans