The Best Brothers at GCTC IS the Best
The Best Brothers at GCTC IS the Best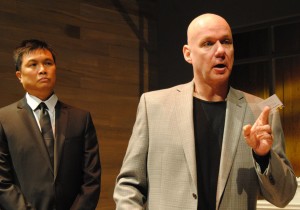 GCTC has a hit on their hands with their production of "The Best Brothers" by award-winning Canadian playwright Daniel MacIvor.  MacIvor's plays are so tightly woven that they're difficult to write about without giving away quirky plot surprises and wonderful jokes.
"The Best Brothers" is a play about family and family relationships.  Hamilton Best, played by John Ng, and his younger brother Kyle, played by Andy Massingham, are faced with coping with the sudden death of their mother.  She was killed in a bizarre accident at a Pride Parade – one of the surprises I won't give away.  They have to deal with long-buried resentments, sibling rivalry and what to do about their "other brother" Enzo, another surprise.
These two are very good actors and are well matched. John Ng's Hamilton, almost always appearing in a suit, is an uptight architect whose wife is about to leave him.  Andy Massingham's Kyle is more of a free spirit whose current boyfriend is a sex worker.  They bump heads over the obituary and Kyle's proposal to have their Mother's visitation catered.  Andy Massingham's impeccable comic timing is on display in a hilarious scene at the visitation.  Each actor at times dons white gloves and gives us poignant and funny glimpses of their Mother, Bunny.
"The Best Brothers" takes place on a single set, a simple room with a forestage, all appearing to be built of narrow wooden boards beautifully designed by Roger Schultz, also responsible for the good costumes.  It functions as an apartment, kitchen, funeral home and even a park, further defined by Jock Munro's warm and elegant lighting and accented by Aymar's excellent music and sound.
Artistic Director Eric Coates has done an expert job of staging and directing.  The pace is perfect and the movement flows.  He and his fine cast let us see the subtle changes in this relationship as the play builds to a final resolution, without missing a bit of the humor.  To quote the Director, "These brothers capture the universal essence of family in all its strife and beauty."  "The Best Brothers" is one of those rare plays that made me want to write, "Just go see it!"
"The Best Brothers" by Daniel MacIvor    Through March 29  tkts:613-236-5196
CREATIVE TEAM
Director: Eric Coates
Set & Costumes: Roger Schultz
Lighting: Jock Munro
Sound: Aymar
CAST
Kyle: Andy Massingham
Hamilton: John Ng