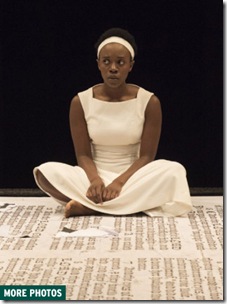 Photo David Cooper.  Featuring Natasha Mumba
It might best be described as a 60-minute explosion of zaniness.
It comes to us courtesy of the Shaw Festival, which — in the immortal words of the Monty Python guys — wanted to program "something completely different" for this summer's lunchtime theatre slot.
At the same time it wanted us to remember the bearded playwright who has provided the essential mandate for one of the largest theatre festivals in the world.
So it commissioned Canadian playwright Lisa Codrington to prepare a stage version of George Bernard Shaw's controversial 1932 novella, The Adventures Of A Black Girl In her Search for God.
The result, now on view at the venerable Court House Theatre might best be described as inspired mayhem.
To say that Codrington plays fast and loose with the GBS original is to put it mildly. It's a slyly subversive reworking of an already subversive text, but she doesn't dishonor the rationalist sensibility that led Shaw to write this satire about the young African girl who offends her missionary mentor by asking too many unanswerable questions about the nature of God and then sets out to find the answers for herself. Instead, Codrington holds Shaw in mischievous affection to the extent of giving the old boy his own place in the script.
Indeed some of the biggest laughs come when GBS, gleefully portrayed by Guy Bannerman, engages in blustery arguments with the Black Girl over the way his story has been adapted. "This is a massacre!" Bannerman's Shaw protests, but you sense that his bark is worse than his bite.  After all, he is a symbol of radicalism himself. Nevertheless, as the Black Girl disdainfully reminds him, he also happens to be "a dead white guy."
A marvelous actress named Natasha Mumba portrays the piece's ever-inquiring heroine with spirit and intelligence. What we're getting from her is a combination of sass and intellectual curiosity in her quest for the meaning of life.
The energy rarely flags in Ravi Jain's production. It can all seem a bit like a cartoon — but it's a cartoon with bite as the Black Girl continues in her mission to discern the real nature of God.
Hence we encounter various competing deities represented by the likes of Graeme Somerville and Guy Bannerman, on this occasion dropping his GBS persona to become the Lord of Hosts. King Solomon shows up too, courtesy of an amusing Ben Sanders, who has shown up earlier as Micah the Morasthite. Indeed, proceedings become a veritable Babel of gods and prophets vying for our attention.
The material provides further diversions — Tara Rosling as the missionary driven to despair by the Black Girl's insistence on asking these undesirable questions; Kiera Sangster as a snake bemoaning her treatment by the book of Genesis. However, mock crucifixion images border on tastelessness, and seem a bad fit.
Designer Camellia Koo presents us with a square elevated playing area that dramatically expands to display the open pages of a giant Bible. It's a brilliant visual device, and it's on this terrain that the Black Girl pursues her increasingly frustrating quest.
"Why did you make the world so badly?" this baffled child asks her elusive deities at one point. Then, there's Guy Bannerman again, this time as a naturalist, declaring that the world is better off without gods and then giving the Black Girl a cogent account of how the "idea' of God developed.
The Shaw Festival's take on an 84-year-old GBS story may be irreverent, but it doesn't insult the intelligence.
(The Adventures Of a Black Girl In Search Of Her God continues until Sept. 11. Ticket information at 1 800 511 SHAW or shawfest.co