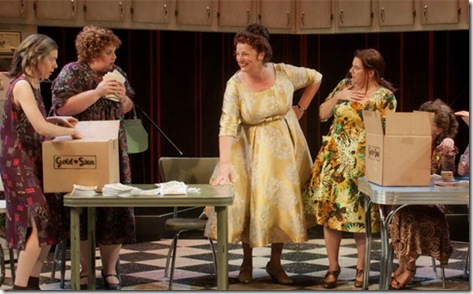 Photos .Courtesy of the National arts Centre
The NAC English Theatre is closing out their season with the musical "Belles Soeurs." Based on the Michel Tremblay play, the book and lyrics are by Rene Richard Cyr who also directed, with the English book adapted by Brian Hill. The music is by Daniel Belanger with English lyrics, musical adaptation, and additional music by Neil Bartram.
Michel Tremblay's play, first produced in 1973, has become a Canadian classic that has been produced all over the world in over 30 languages. It tells the story of Germaine, winner of one million trading stamps, and the stories of her friends and relatives who she has invited to a party to help paste the stamps into books. These are all Quebecois women, unhappy with their lot in life and uncomfortable with the changing times. Germaine's daughter Linda wants to fit in with the new ways and bonds with Germaine's estranged sister who works in a club. We gradually learn about all of their lives.
The majority of the songs are revelations of character. I found the most moving to be "My Traveling Salesman," beautifully acted and sung by Lili Connor. Speaking of singing, all these ladies have terrific voices and the balance with the band is good, but the sound is a bit loud overall. A couple of songs, such as "In a Club" and "Ode to Bingo," are just plain fun. The diction is great- we understand every lyric, even in the ensemble numbers.
Chris Barillaro is responsible for the excellent orchestrations and musical direction. He also piano-conducts the first rate five piece band. They're onstage behind scrim with the piano, bass, violin, cello, and woodwind doubler right and drums and percussion left. I enjoyed watching drummer Peter Colantonio during "It's a Dull Life," accompanying this song about housewifely drudgery on an assortment of pots, pans, and kitchen implements.
I've seen and enjoyed a few of Michel Tremblay's plays but not "Les Belles Soeurs." I would imagine, though, that in the play the characters are more fully fleshed out. There's also a structural problem here in Act II. Pirette's powerful ballad "Johnny" is back to back with another emotional ballad "Why," which lessens the impact of both. By the way, Pirette, the excellent Genevieve Leclerc, sings that Johnny calls her old and fat. Well, there's not an ounce of fat under her slinky black jumpsuit.
This tale of disillusioned women resonates strongly through both dialogue and song. The multi-level performances by the strong cast help us understand them in all their variety. The NAC has made a good choice to end their season.
"Belles Soeurs: The Musical" produced by Copa de Oro Productions (Montreal) & Segal Centre for Performing Arts (Montreal) presented by NAC English Theatre through May 14
Tickets: 613-947-7000