Be a Friend, the Musical: Orpheus Musical Theatre Society has produced a playful packaging of serious content that works for young children.
Reviewed by Alvina Ruprecht
22
Dec
Posted:
December 22, 2013 Sunday at 3:24 pm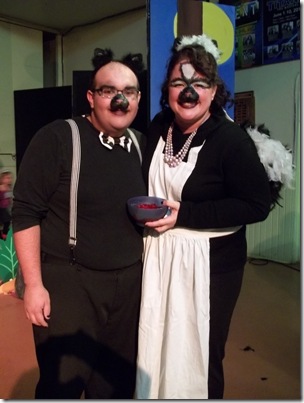 Photo: Barbara Boston. Sammy Skunk (Fabian Santos) and Mommy skunk (Donna St.Jean).
Iris Winston's award winning play for children, based on the trials and tribulations of Sammy Skunk whose physical difference turns him into a pariah of the Squirrel community, takes on some very serious issues about bullying, racism, prejudice and all the things that young people confront in schools and on the streets of our urban society. The audience of 3 to 10 years olds seemed to be listening intently to this musical adaptation as poor Sammy, (an excellent Fabian Santos who had all our sympathy with his fluffy white tail and oily black nose) sung about wanting so much to fit in after he and his mom (an upbeat and wise momma skunk, played with much warmth by Donna St. Jean) had to move to a new neighbourhood.
Jenn Donnelly's colourful and minimalist set, enhanced by John Solman's dramatic lighting effects worked very well. Also important were Gord Carruth's and Bart Nameths expressive piano music , played by John Litster, as well as Gord Carruth's excellent lyrics that kept the narrative flowing. All the musical elements coincided with the emotional moments, the excitement, the change of pace and the different reactions that emerge during the hour –long performance. Note the excellent contrast between Sammy's sad introspection and the wildly chattering band of girly squirrels in floppy colourful skirts, led by Lawrence Mahusky who created a super nasty alpha squirrel without frightening the children. All the voices were delightful and the acting was appropriately stylised for children's theatre.
I still could not help feeling that this production was a work in progress because it might want to rethink certain portions of the performance. The character of the story teller, added by director Michael Gareau seemed to slow down the action and shift the emphasis to explanation, to narrative, whereas the spoken/sung script of the play already made the situation very clear. No more narrative was necessary. The moment when Sammy wanders alone through the forest looking for forest friends slows down unnecessarily and caused some of the younger ones to lose interest because it was all talk. We would have liked to see some visual suggestion of that fleet-footed deer running in the forest, or that heron flying away, or the ducks quacking. Spoken narrative is not usually helpful in this kind of play where there is a clear moral lesson that has to be recognized by the young audience . In such cases, showing, rather than telling, is much more effective. In fact that lone walk in the forest by Sammy was saved by the entrance of those silly giggly, nasty teasing squirrels that showed immediately how wrong they were and they had the fidgeting youngsters paying attention again. The audience reactions were just as interesting as the performance and I kept my eyes on them all the time.
The excellent aspect of this performance was the constant interaction with the children that had them voicing some of the most unexpected comments.
This is a very good moment for smaller children (3 – 7 years.) – mats are set out in the front for them to roll about at the feet of their parents.
Be a Friend will be around again so watch out for it at Orpheus House, 17 Fairmont avenue. Call 613-729-4318 for information about dates and prices.