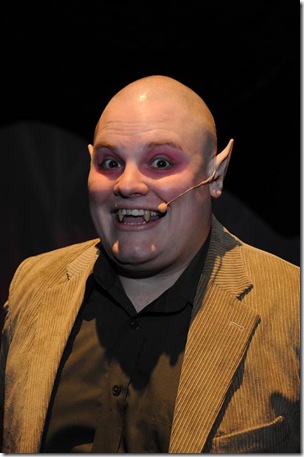 photo  David Pasho  Zach  Counsel in the title role
Reviewed for the Ottawa Ciizen
OTTAWA — It's an unlikely plot: A half-bat, half-boy emerges from a cave and tries to make a life for himself in a redneck West Virginia town. But then again, logic and musicals don't necessarily keep company.
Under Black Sheep Theatre director Dave Dawson, the ensemble delivers a funny, occasionally poignant and spirited production of this nihilistic cult favourite written by Keythe Farley and Brian Flemming with music and lyrics by Laurence O'Keefe. The writers based the musical on an early 1990s story in the satiric Weekly World News.
Zachary Counsil plays Bat Boy. Equipped with a pair of overgrown eye teeth and Mr. Spock-like ears, he's full-voiced on the musical numbers (that's not true of all the cast) and textured when depicting the pain of being unusual in a world where being unusual is to be feared and hated.
And Bat Boy is feared and hated. The folks of Hope Falls – now there's an ambiguous name for a town – are horrified when Bat Boy first appears. It's a classic case of "otherness," although Bat Boy, taken in by the kindly if frigid Meredith Parker (Rebekah Shirey), wife of the local veterinarian, soon acquires language and manners in excellent My Fair Lady fashion. The big Act One number Show You a Thing or Two is a tip of the tongue-in-cheek hat to that hit musical, with Bat Boy exclaiming, in a paraphrase of Professor Henry Higgins, "I think I've got it!"………….
read more http://www.canada.com/entertainment/Theatre+Review+takes+flight+frequently+funny+parody/7830257/story.html