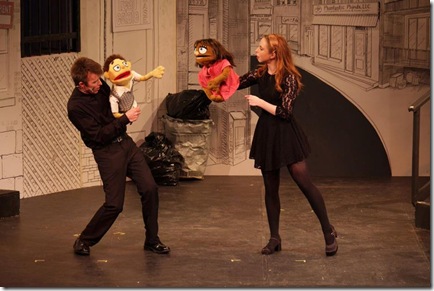 Photo: Courtesy of Allan Mackey.
The cheerful, uninhibited ribaldry of Avenue Q may well jolt some theatregoers. But they're more likely to be disarmed by this essentially sweet-natured musical satire about life in a run-down apartment building on the wrong side of the tracks.
Ottawa's Toto Too Theatre's new production is a triumph — and a notable one. After all, this enterprising local company could have stumbled badly when it decided to tackle this long-running but challenging Broadway hit.
The show's creators — Robert Lopez, Jeff Marx and Jeff Whitty — have created an infectious combination of witty word-play and toe-tapping music. They have stocked their comic playground with a collection of engaging and generally endearing neighbourhood types. But we're also getting a mischievous, albeit affectionate, send-up of Sesame Street here, along with some R-rated moments that are clearly not intended for the moppet brigade. That means that puppets — and, more specifically their effective use on stage — are integral to the success of any production of Avenue Q. Without effective puppetry, the material falls flat.
But Toto Too's production, seen by this writer in preview, repeatedly amuses and beguiles. It offers a textbook example of outstanding ensemble playing, thanks to Michael Gareau's nimble and imaginative direction and a talented and responsive cast. Musical director John McGovern and choreographer Aileen Szkwarek ensure that the big song numbers have the bounce they require — witness, for example, the company's rollicking treatment of a subversive little ditty called The Internet Is For Porn or a pungent bit of social satire that informs us that Everyone Is A Bit Racist.
But again it's the puppetry that makes everything click. It's not enough for a cast member to sing well and make a character somewhat more than a caricature. There's also the need to co-ordinate all this with an accompanying hand puppet to create a total character.
The need here is to ensure a fusion — to make each whimsically designed puppet a true extension of the personality being created in word and music by the actor.
There are delightful rewards, therefore, in seeing a talented performer like Alianne Rozon achieve such a delightful symbiosis with her puppet counterpart to round off the character of Kate Monster, a fledgling teacher who yearns for a meaningful relationship, or in watching a mournful Pascal Viens interact beautifully with his puppet to communicate the lonely neurosis of a closeted gay named Rod.
The truth is there's not a weak link in this show. And it's highlighted by the dynamite work of Iyono Ede as the decrepit apartment building's superintendent, an eternally resourceful gal named Gary Coleman. But there are a lot of plaudits to be handed out — to Andrew Galligan for the melancholy with which he invests the character of a jobless university graduate named Princeton; to John Leclaire, bushy-haired and rumbling as the porn-loving Trekkie Monster; to Mary Ellen Vice happily giving seductiveness a bad name as a swivelling femme fatale named Lucy the Slut; plus such other contributors to the success of this show as Kodi Cannon, Patrick Tweed, Jasmine Lee, Andrew Portolesi and Andrew Mangan. Plaudits to them. Toto Too's beautifully crafted treatment of this musical should warm the flintiest theatregoer's heart. And it's definitely worth negotiating the nightmare of the Carleton campus to see it.
Toto Too Theatre presents Avenue Q
Kailash Metal Theatre, Carleton University
June 17-20
Tickets: www.tototoo.ca
Book: Jeff Whitty
Music and Lyrics: Robert Lopez and Jeff Marx
Based on an original concept by Robert Lopez and Jeff Marx
Director: Michael Garneau
Musical Director: John McGovern
Choreography: Aileen Szkwarek
Set: Sally McIntyre
Scenic Artist: Christy Bindhardt
Lighting: David Magladry
Sound: Mike Heffernan
Costumes; Peggy Laverty
Makeup: Corey Stone
Puppet Wranglers: Mieke Ives Liddiard, Stephen Liddiard
Props: Pam Chartrand
Kate Monster: Alianne Rozon
Brian: Kodi Cannon
Rod: Pascal Viens
Nicky: Patrick Tweed
Christmas Eve: Jasmine Lee
Princeton: Andrew Galligan
Gary Coleman: Iyono Ede
Bad Idea Bears: Andrew Portolesi, Katrine Mangin
Mrs. Thistletwat: Mary Ellen Vice
Newcomer: Andrew Portolesi
Ricky: Andrew Portolesi