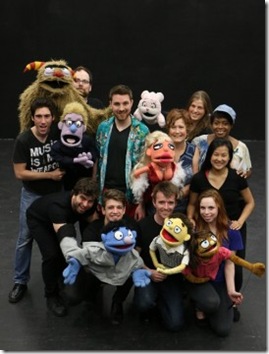 Photo: Courtesy of Allan Mackey.
Inspired by the TV show Sesame street, the award winning team of Robert Lopez, Jeff Marx and Jeff Whitty has created a witty, satirical and joyous celebration of difference, with music, puppets, singing and dancing, that all fit together under the extremely skilful direction of Michael Gareau. Toto Too's first rate production of Avenue Q created a wave of excitement and laughter in the theatre that I have not seen in years.
The set by Sally McIntyre, was a closed New York neighbourhood, Avenue Q, made up of individuals who are black and white, yellow and blue, Japanese and Jewish, recent immigrants and less recent immigrants, puppets and humans, young and old, poor and less poor, gay and straight, monsters and non-monsters, the scale of diversity is non ending but the parody lay in the authors' attempts to unite this community of differences in a great bond of human sympathy by subverting all the stereotypes, ridiculing taboos, saying what people think but don't dare say, and creating a human landscape of total liberation that is absolutely wondrous. After the show you feel you have just experienced a breakthrough session of collective psychotherapy that has actually worked.
Of course it's an adult show and in this context it transgresses the biggest taboo of adult life: sex, turning the subject into great explosions of fun, gales of laughter and by dealing with such things in such an open and unembarrassed way. Everything becomes "normalized".  How exotic! 
One number says it all. "You can be as loud as the hell you want" belted out by the powerful performer Iyono Ede who leads the group in their sassy routine about sex while Kate Monster and Princeton (the puppets of course) dance and rattle and shake and fly about in their neat little encounter in Kate's apartment. Of course there are moments of sadness when the relationships are breaking down, there is the tough minded little Japanese Christmas Eve (Jasmine Lee ) who likes to slap her husband around (Kodi Cannon) because as she tells us "The more you love someone, the more you hate them" and people are suffering but as Gary Coleman (the dynamite lyono Ede) tells us, there is always a good side to someone's misery and the show twists everything around to make it happen. .
Director Michael Gareau has brought it all together most skilfully as the dancers/actors/puppets kept their lively and energetic pace. Choreographer Aileen Szkwarek's routines with the actors, most of whom where attached to the sesame style puppets but whose voices melded with the faces similar to their TV counterparts, brought all those faces, all those bodies (human and otherwise) together in crisp, expressive, perfectly executed movements  that appeared effortless, and created the illusion of impeccable  professionalism. The singing was of the same level, as it had the actors, the puppeteers and even the puppets performing together to the point where the puppets voices really seemed to be pouring directly out of those huge fuzzy heads. Kate Monster and Princeton the young love interest, brought to life by Allianne Rozon and Andrew Galligan were dragged through a whole series of emotional ups and downs as Princeton searches for his "purpose" in life, Kate monster deals with her own "monstrosity" and then in comes the luscious lipped puppet Lucy the slut (Mary Ellen Vice) with the enormous mouth whose invitations to the men seem to be difficult to refuse. Vice  also brought a certain teacher , a Mrs. Thistletwat to life with her spitting and screeching and horrifyingly realistic puppet performance . Actor Andrew Galligan, with his own very expressive face and supple movements, transformed the conflicted Princeton into a suffering humanized puppet, as John Leclaire the gravelly voiced Trekkie Monster, joined forces with them all to sing about porn on the internet and create giggles in the theatre. We certainly musn't forget Rod (Pascal Viens) and Nicky (Patrick Teed) whose difficult and beautifully performed story of admitting what they really  feel, certainly touches on a dimension of inner turmoil that affects many people who must come to terms with the fact that they are gay.  No doubt the number about Everyone's a little bit racist, embodies this spirit of the whole show with its healthy tone of down to earth humour , its well-constructed story and  witty lyrics.  Directed by John McGovern, Stephen Oremus' arrangements sounded first rate as they were handled by John McGovern on keyboard, Pierre Huneault on percussion and Tom Mcmahon on a smooth acoustic bass that worked especially well when he played a jazz-sounding accompaniment. In fact, we heard popular music, traditional rhythms, and parodies of existing music, jazz and a whole medley of sound effects resulting in a spicy creation that added a lot to an excellent performance
Avenue Q plays in the Kailash Mital Theatre at Carleton University. In fact it is the old Southam Hall in the Loeb building that has been refurbished with better sound and lighting equipment. Parking Lot 1  is  the lot directly behind the University Library. Need we repeat that for those who do not know the Carleton Campus,  many of the  old roadways have been closed or changed, navigating through that place at night is a nightmare.