A creation of the Le Birgit ensemble, Paris. Music by Grégoire Letouvet, Romain Maron; Set Design by Camille Duchemin, Lighting by Grégoire de Lafond, Video by Pierre Nouvel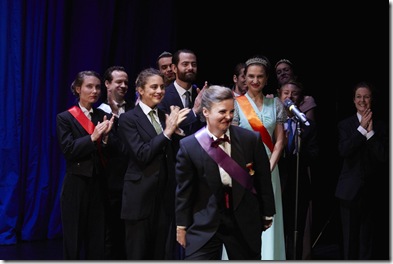 Photo: Christophe Reynaud De Lage
Memories of Sarajevo and Dans les ruines d'Athènes are the two concluding parts of the tetralogy Europe mon amour created by Julie Bertin and Jade Herbulot, the founders of the Paris based theatre company Le Birgit Ensemble.
Conceived in the genre of a nation play – defined by Michael Billington as a theatre play that takes stock of the state of the nation and instigates social  change – Europe, mon amour provides an overview of  European history, as it unfolded after the World War Two.  Memories of Sarajevo  presents an exploration of the 1992 – 1996 siege of Sarajevo, Dans les  Ruines d'Athènes  is a study of the recent economic collapse of Greece.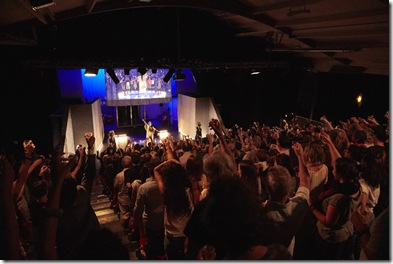 Dans les ruines d'Athènes. Photo Christope Reynaud De Lage.
Born in the mid 80s, the company's directors and its fourteen members, present a homogeneous group of collaborators. They belong to the generation of young Europeans, who grew up affected by the new political, economic and social freedoms and who challenge the political and economic practices of the European Union.
They have no sentimental attachment to this history, they are ready to ask difficult questions and call European governments to be responsible for their failures. Le Birgit Ensemble is also unique in its professional make up, as it consists of a group of young artists, who studied together at Le Conservatoire National Supérieur d'Art Dramatique (CNSAD). They share artistic language and methods, they research and create their productions together as well. Still, the two productions presented in the Avignon 2017 were very different in style and directorial approaches.