Avignon: Die Kabale der Scheinheiligen. Das Leben des Herrn de Molière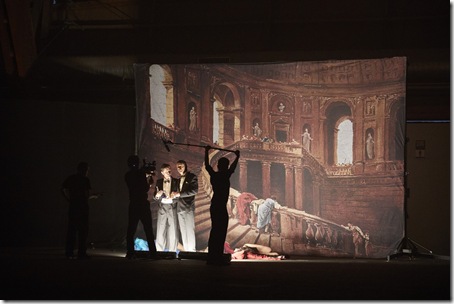 Die Kabale der Scheinheiligen. directed by Frank Castorf  (Berlin).  Set design by Aleksandar Denic. Photo Christian Raynaud De Lage.
Based on Le Roman de Monsieur de Molière by Mikhail Bulgakov, with additional texts by Pierre Corneille, Rainer Werner Fassbinder, Molière, Jean Racine
Frank Castorf's reputation precedes his creations. The director-monumentalist is known for his epic adaptations of the western literary canon and innovations in stage design, specifically the use of film on stage.  Die Kabale der Scheinheiligen  lives up to its reputation. It presents a full range of Castorf's directorial palette.  Even if the six hour theatrical marathon might feel a little over-stretched – do we really need a clown routine with a chair for another 20 minutes? – the play is something to be experienced live at least once, and definitely here, at the Avignon theatre festival.
The story of this colossal production is based on the life of Jean-Baptiste Poquelin, Molière, his complex relation with King Louis XIV and the Catholic Church, his personal affairs, his theatrical triumphs, and his fall orchestrated by his enemies, all of it as imagined and told by the Russian-Soviet writer, Mikhail Bulgakov.