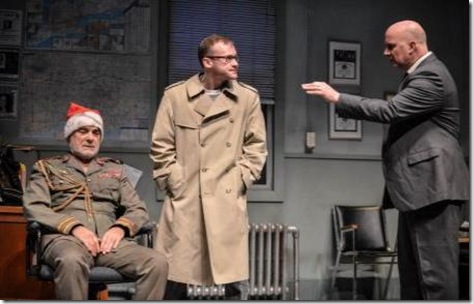 Photo: Andrew Alexander
An old man, clearly drugged, shows up at a police station wearing a Santa hat and military uniform. A meat hook skewering a lawyer's business card hangs around his neck. This is the jumping off point for The Butcher by Nicolas Billon, playing now at the Great Canadian Theatre Company. It's a pretty enticing teaser to begin with, but the real success of the play is the fact that it found its way into the hands of an impressive artistic team. From direction to design to acting – there are a lot of reasons that The Butcher just works but at the heart of it is a shared vision.
To reveal too much of the script is a disservice to future audiences, so suffice it to say: This is a play that is not what it appears to be at its inception. Playwright Billon weaves an unexpected and affecting story that weighs in on some heavy ideas, while rooting them in well-crafted characters. It's the characters that drive the play, and here the cast rises to the occasion.