Reviewer: Jamie Portman
Reviewed by Jamie Portman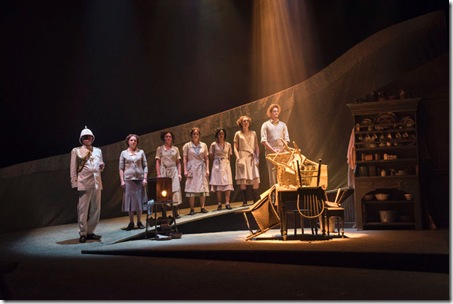 Photo. David Cooper
NIAGARA-ON-THE-LAKE, Ont. — There's Fiona Byrne, poignantly convincing as Kate, the oldest of the sisters and a bundle of laced-in repression. She's a school teacher, painfully aware of being the only real wage-earner of the household at a time of gathering economic travail, devout in her Roman Catholic faith, and fiercely devoted in her own humourless way to her family.
There is Serena Parmar, a mixture of resilience and vulnerability as Chris, the youngest of the sisters. She's the mother of seven-year-old Michael and unemployed — her life on hold because of Michael's vagabond father, Gerry, who is more absent than present in their lives.
And then we have two particularly close sisters  who earn a bit of money by knitting gloves at home and selling them: the quiet and reflective Agnes, whose silences, in Claire Jullien's intricately embroidered performance, tell their own tale. Agnes in her own way is the chief carer for Rose, the sister who has never really grown up: she's portrayed by Diana Donnelly with a joyous, child-like innocence that also leaves you aware of her emotional fragility.
08
Aug
Posted:
August 8, 2017 Tuesday at 12:41 pm