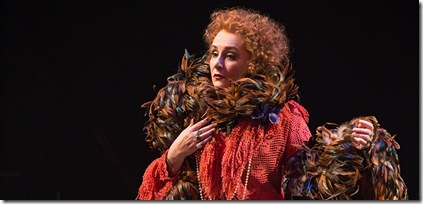 Seana McKenna as the Madwoman. Photo by Cylla Von Tiedemann
STRATFORD, Ont. — The stage of the Tom Patterson Theatre has become a fantasy place — of colourful jugglers, exultant wordplay and somersaulting paradoxes, of imaginary dogs, lifeguards who can't swim, cops with a weakness for cribbage — and a madwoman who isn't mad.
Seana McKenna, who has the title role in the Stratford Festival's new production of The Madwoman of Chaillot, gives us a character who confidently exists in her own reality — or is it her own unreality?
The flamboyant costumes designed for her by Teresa Przbylski certainly reflect a certain dotty elegance, but it is ultimately McKenna herself who really brings this quality into topsy-turvy focus with her performance as Aurelie, the Madwoman of Chaillot.