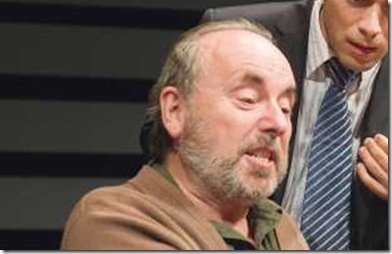 Photo of Paul Rainville by Wayne Cuddington.
Two candidates for the M.F.A. degree in directing with the Theatre Department of the University of Ottawa recently presented their first stage projects in the  Léonard-Beaulne Studio. The directing projects were supervised by  Kevin Orr who is a professional director and a professor in the programme.  In English, Martin Glassford directed Václav Havel's play Audience, and in French we saw Catoblépas, a text by Québec novelist Gaétan Soucy, directed by Sariana Monette-Saillant. I found the evening so interesting I would like to comment on some of the more noteworthy aspects of these shows.
Audience by Václav Havel.
Both were performed by professional actors and that experience was certainly important for these young directors. Paul Rainville (see photo)  appears as the Brewmaster in a beer brewing factory which suggests a microcosm of the totalitarian state where the working class boss confronts a young dissident intellectual, a playwright who is obviously Havel himself, sent to work in this hell hole. It is a taut two-hander (first performed in 1975)  that suggests all the complexity and horrors of their situation .
I immediately thought of Mrozek's Emigranci (The Emigrants) written in 1974   but Havel's theatre also owes much to Pinter and a whole generation of writers who are essentially expressing situations of oppression and fear in various ways. In all the decrepitude of Carolyn Barrett Barne's good set, projecting the disintegration of these lives, Paul Rainville, once again, proved what a sensitive, versatile and powerful actor he is as he carried the show from the very first moments we see him snoring away in a drunken stupor on the table in his "office". Even with a minimalist dialogue that suggests more than it says explicitly, he became a human being that was totally destroyed by the system. His eyes half closed, his puffy splotchy face, his clothes that looked as though they hadn't been washed in weeks, his faltering gaze, his voice, he incarnated an excruciatingly pitiful human wreck. The text was of course very strong. Never has the constant opening of bottles of beer and the insistence that the other fellow drink, been so meaningful in their desperation. Opposite Rainville, Nick Di Gaetano had difficulty holding his own, especially given his apparent lack of emotion that the director might have picked up during the rehearsal process. Still, this was an excellent moment of theatre and a fine learning experience for all those concerned.
Catoblépas by Gaétan Soucy.
The play was also carried by two actresses with magnificent voices: Nathaly Charrette and Sasha Dominique caressed the text, murmured the vowels, and played with the sounds in this vocal orchestration of a performance that Denis Marleau brought to Ottawa in 2001. It appears to be a poetic reading that cannot sustain the 55 minutes we saw which was even shorter than the Marleau performance. If Marleau partially succeeded it was only because the play fit into his process of experimentation with non-realistic texts in the context of his research on Symbolist theatre at that time. The text creates two diaphanous creatures that have almost no physical substance, who speak of the absent child, and are defined by the sounds of their voices in an evanescent space of memory, the perfect symbolist situation intent on denaturalising the actor as it makes the realistic body disappear from the stage. However, the absence is usually compensated by other esthetic forms such as music, visual research, and intriguing sounds and given the other plays Marleau was doing at that period, Catoblépas made sense if you were interested in the totality of the director's very personal stage esthetic. As an exercise for a directing student however, this play was obviously a good opportunity to study the techniques of reading and it was all the more gratifying with two actors of such high calibre. But here on its own, without any particular context, Catoblépas had very little to offer. It is not an interesting play because it appears to be written by someone who has no idea how theatre works, and I am still wondering why this student decided to present it.
The evening was produced by the Théâtre de la Licorne . I might mention that the Unicorn Theatre also at the University of Ottawa will be presenting two other evenings of student theatre. Directing candidate Katya Shestakova is trying her hand at Princess Ivona by Polish playwright Witold Gambrowicz. The production is based on an  English translation by Krystyna Grifffith-Jones. (March 5 to 9) In April Éric Perron, also a candidate in the same programme will be presenting Le Temps et la Chambre by  German playwright Botho Strauss, based on a French translation by Michel Vinaver. (April 2 to 6)
The students chose contemporary classics that we never see anywhere else in this city and for that very reason, these events are important. They all take place at the Department of Theatre, 133 Séraphin-Marion.