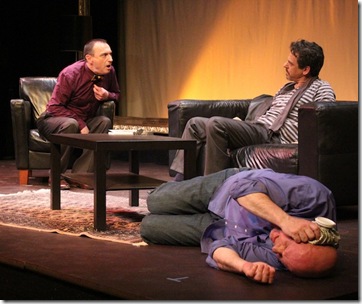 Robert Marinier, David Frisch, Andy Massingham (on the floor)
Photo: Julie LeGal .
Yasmina Reza loves to torment the Parisian bourgeoisie, so well ensconced in its own particular snobbisms, its cultural traditions and prejudices. However, these people are also her theatrical audience so she does not want to insult them. Thus while teasing her (French) spectators, she shows that her special brand of middle class boulevard theatre also confirms the breadth of her audience's cultural background. – An excellent strategy to keep the audience in a good mood and keep it laughing at itself. The play Art is such a double edged weapon in her theatrical dialectic and since Mme Reza's plays are so well constructed, and her dialogue is so sparkling, they still make for an amusing evening of theatre.
Nonetheless, non-French audiences fall quickly into her trap because Art is not really about art per se. That white canvas (which is not really white, insists Serge) is actually a pretext to examine the nature of the relationship between three friends, as it expresses itself through their engagement in areas that define their intellectual snobbism, for example, their appreciation of painting which is a powerful cultural force in middle class Parisian society. (less so In Ottawa I would say). Serge (Robert Marinier) is seduced by tendencies, names and obsessed by a desire to be seen as an up to date collector, even though it ruins him. Yvan (Andy Massingham) is slightly in over his head but he has strong personal emotional issues to deal with such as his upcoming marriage and troubles with his future in-laws. However, he values his friendships and hesitates to admit he doesn't like the painting. As for Marc (David Frisch), the most independent and non-conformist thinker of the group, he says clearly what he thinks only because he feels that he is losing his intellectual hegemony over the group because perhaps Serge has outmanoeuvered him with his choices of modern art. His persona is more complex than that of the others where friendship and status within the group become intertwined. A piece of art –defined only by its price – a nasty comment on the art market, thus becomes the catalyst for a serious confrontation among these three friends who, in the wake of their disagreement about the tableau, let fall all their politeness , their good manners, their hypocrisy and soon say what they really feel about each other. The gloves are off. It is a form of collective psychotherapy, ironically set within a context of good taste and slick, expensive furniture. The set adds bits of objects right out of the flea market, which is the place haunted by art collectors who are always looking for the long lost chef d'oeuvre in some dusty little corner.
According to Richard Cliff, Associate Producer, they purposely chose this version of the English translation that was closest to the original French but Christopher Hampton's sparkling translation was excellent even though he kept a lot of references that showed us to what extent Ottawa audiences have very little in common with this world on stage which  sends out ironic cues to Parisian audiences. For example, when they mention the psychiatrist Finkelzone (parody of a very controversial critic/philosopher Alain Finkielkraut) when they drop all those literary names and references , when blowing cigarette smoke becomes a problem, and it goes on and on, all at the audience's expense. However after near violence which appears to shake up the monument of their friendship, they suddenly just stop, and continue on their merry way, but not before casting mischievous aspersions on the pillar of French thought- Descartes : "nothing good comes out of rational thinking"!! One cannot forget where this play originates and it was clear that director Haworth and the actors found a tone that was less class conscious and more locally oriented but that still worked well! .
I especially liked David Frisch as the outspoken Marc. So completely at home in his role one felt he was actually living through a tortured experience that eventually led to his transformation. Reza's therapy worked and so did Frisch's style that was suave, relaxed, with a touch of diabolical manoeuvering about it and was a real pleasure to watch. This is an interesting new actor to the Ottawa scene and I hope we see more of him.
Robert Marinier as Serge, who spent his 100,000 euros on the painting, performs in a way that is less interiorized, less psychologically based. His work is exterior. He manipulates his facial expressions to the point where his displeasure expresses itself as tightening neck muscles, wide eyes and a face that worked as a living mask. I have seen Marinier in many French language productions and his work is always excellent however, and in this case, he incarnated physical tension that created a character who has not at ease in his skin, perhaps a sign that Serge was not really convinced of the value of his canvass. .
As for Andy Massingham , we know his predilection for corporeal oriented theatre where he always excels . Here, he brings to the emotionally overwrought character a spike in blood pressure that had me wondering if Yvan and/or Andy were going to burst a blood vessel. This performance was a viable interpretation of a character submerged in family tensions that we must see as sources of almost absurd discord. However weddings are emotional experiences and as he is submerged in this kind of emotional prison, we actually feel some pity for him because of his personal life. Massingham brings to his performance a sense of near desperation as he insists that he needs this friendship to balance out his life.
Thus the painting accomplishes its function, not as a work of art but as source of controversy which sets off some sort of recognition and of personal healing.
In this strong trio of performers, we see three different forms of actor engagement that suggest three different styles of actor training and that adds much interest to the show. Same Day Theatre has again confirmed the quality of its work by giving us not only good entertainment but much theatrical food to digest. That is a very satisfying combination. Go see it.
Art plays at the Gladstone Theatre until June 6. Call 613-233-glad for tickets
Art by Yasmina Reza
Translated by Christopher Hampton
Directed by Peter James Haworth
Set and lighting: David Magladry
Costumes: Annie Lefebvre
Props and set decoration: Kim Narraway
Cast:
Marc David Frisch
Serge Robert Marinier
Yvan Andy Massin