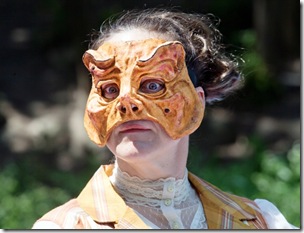 Photo. Wayne Cuddingham, Ottawa Citizen.
Did George Bernard Shaw ever envision Arms and the Man staged like this?
Seizing on the themes of duplicity, self-deception, and confusion of fantasy and reality that underpin Shaw's biting comedy about love, war and class, director Andy Massingham has given the show a telling Commedia dell'arte twist.
Actors appear in mask or with faces richly painted, many of their costumes big and bright. Characters – at least the worst dissemblers or the most deceived among them — move with exaggerated physicality. And those characters break down into servants, masters and lovers, which is how Shaw wrote the play but is also the classic structure of Commedia.
What Shaw may have envisioned is, in the end, idle speculation. What's not speculation is that this production — funny, fast and furiously satiric — works.
Massingham and his well-oiled cast give us a coherent, credible staging of a play about a bunch of fractured, hyper-real people. It's rounded out by strong design including Almut Ellinghaus' masks and Snezana Pesic's set that blends straight lines and curved as the play and production blend the skewering of foolishness, humanity, and unexpected juxtapositions.
First performed in 1894 and still among Shaw's most produced works, Arms and the Man is set in the brief Serbo-Bulgarian War of 1885.
It's not so much an anti-war play as one that pillories the idealization of war along with the romanticizing of love and the British class system.
In this production, Philippa Leslie, an actor blessed with superb comic timing, playfully depicts the young, upper-class and strikingly feisty Raina Petkoff….read more…..
http://www.leaderpost.com/entertainment/story.html?id=8709715
Arms and the Man
Odyssey Theatre
Strathcona Park
Reviewed Thursday, July 25 for the Ottawa Citizen