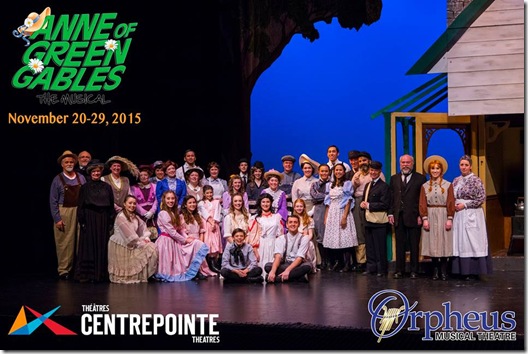 Photo. The cast on the Orpheus facebook. 
Is there anyone out there who doesn't know the story of Anne of Green Gables — the girl who was sent to the Cuthbert household instead of an orphan boy as requested?
Lucy Maud Montgomery's classic novel, adapted for the musical stage by Don Harron and Norman Campbell, has been running in Charlottetown, Prince Edward Island each summer for the last 50 years.
It was a hit in Ottawa when the Orpheus Musical Theatre Society presented its version in 1999 and it deserves to be a hit once more in the current production, as directed by Joyce Landry with musical direction by Terry Duncan and choreography by Debbie Guilbeault.
In the title role, Caroline Baldwin is splendid as the feisty orphan — the definition of triple threat in terms of a fine singing voice, sensitive acting ability and graceful movement.
Other standouts in the well-chosen cast are Jim Robertson as a warm, kindly and bumbling Matthew Cuthbert and Maureen Quinn McGovern as the gossipy Rachel Lynde. In addition, young dancer Xander Sen constantly draws the eye. (A natural for Billy Elliott some day.)
Laura Duncan's unusually quiet portrayal of Matthew's sister Marilla Cuthbert takes some getting used to, but is a valid interpretation, though it periodically brings down the otherwise bubbly tone of the production.
Tony Walker's clever set allows for fluid set changes and Landry has inserted some interesting pieces of business — for instance, the reaction of the ladies to the raspberry cordial inadvertently served to Anne and her friend Diana (well played by Kate Boone).
Anne of Green Gables, sentimental as it is, remains a charmer and this production, especially because of Baldwin's performance, is memorable.
The Orpheus Musical Theatre Society production of Anne of Green Gables continues at Centrepointe Theatre to November 29.
Anne of Green Gables
Book by Donald Harron
Music by Norman Campbell
Lyrics by Donald Harron and Norman Campbell
Additional lyrics by Mavor Moore and Elaine Campbell
From the novel by L.M. Montgomery
Orpheus Musical Theatre Society
http://www.orpheus-theatre.ca/?lid=9F9ER-B3CWR-WGCTQ  The list of credits is too long to reproduce here. Please consult the Orpheus Website for all the details.