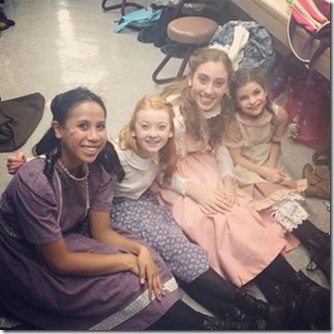 Photo courtesy of Orpheus Musical Theatre.
Seems we just can't get enough of Anne Shirley, that spunky young redhead who packs her overheated imagination and drama queen ways along with her clothes when she moves from a Nova Scotia orphanage to a PEI farm. This time around Anne is portrayed by Caroline Baldwin, and Orpheus couldn't have asked for a better one in its production of the musical adaptation of Lucy Maud Montgomery's beloved novel. Baldwin's a skilled vocalist, her delivery easy, full and nuanced. Her acting is on par with her singing: the actress is a woman, but the character we see is a young girl and one who's endlessly interesting and entertaining as she learns about herself, family and community.
While Baldwin shines in this spirited production, her fellow cast members for the most part aren't far behind. Gilbert Blythe is played with conviction by Storm Davis who transforms himself into a youngster smitten with Anne and who, while easily cowed, inevitably pops back up for another go at whatever he's after. Davis needs to let loose more when singing: his vocal constraint works against his ability.
Kate Boone is a fun Diana, Anne's kindred spirit and bosom buddy. Jim Robertson is a kindly, fumbling Matthew Cuthbert, Anne's ally in her initial battles with his straight-laced sister Marilla (Laura Duncan who underplays her character).
Also worth noting: young Michelle Sangalli in her first Orpheus role. She's a singing and dancing delight as Sara Gillis, one of the children in Avonlea.
These and other cast members are led by artistic director Joyce Landry and veteran Orpheus choreographer Debbie Guilbeault (her Ice Cream number is terrific). Terry Duncan conducts the orchestra. Tony Walker's set is both fun and functional.
Anne of Green Gables
Centrepointe Theatre, Nov. 20-29, 2915
Book by Donald Harron
Music by Norman Campbell
Adapted from the novel by L. M. Montgomery
Lyrics by Donald Harron and Norman Campbell
Additional Lyrics by Mavor Moore and Elaine Campbell
CAST
Anne Shirley
Caroline Baldwin
Marilla Cuthbert
Laura Duncan
Matthew Cuthbert
Jim Robertson
Rachel Lynde
Maureen McGovern
Diana Barry
Kate Boone
Gilbert Blythe
Storm Davis
Mrs. Pye
Laura Burk
Mrs. Sloane
Micah Steffler
Mrs. Barry
Jennifer Grimsey
Mrs. Blewett/Miss Arsenault
Christine Drew
Mrs. MacPherson
Andrea Kinsley
Lucilla
Mary Ellen Vice
Mrs. Gillis/Miss Stacey
Jennifer Cecil
Mrs. Spencer
Maureen Speer
Prissy Andrews
Selina McDonell
Josie Pye
Sarah Olberg
Stationmaster/Farmer Sloane
Bryan Jesmer
Mr Phillips
Evan Huus
Mr. Allan
Rick Burk
Earl the Mailman
Murray Doggett
Cecil Andrews
Rob McLeish
Fisherman Boulter
Morris Rothman
Farmer Joe
John Litster
Charlie Sloane
Marco Walker-Ng
Moody MacPherson
Brandon Nguyen
Tommy Sloane
Jason Wong
Allan Gillis
Xander Sen
Elizabeth Gillis
Samantha Clarke
Ruby Gillis
Paige Harrison
Sara Gillis
Michelle Sangalli
Tillie Boulter
Mirana Rambelo
Gertie Pye
Maya Harris-Harb
Jane Andrews
Kayleigh Doggett
Mary Spencer
Madeline Hore-Kelman
Percussion
Pierre Huneault
PRODUCTION TEAM
Artistic Director
Joyce Landry
Musical Director
Terry Duncan
Choreographer
Debbie Guilbeault
Set Designer
Tony Walker
Costume Designer
Judy Froome
Lighting Designer
John Solmon
Sound Designer
John Cybanski