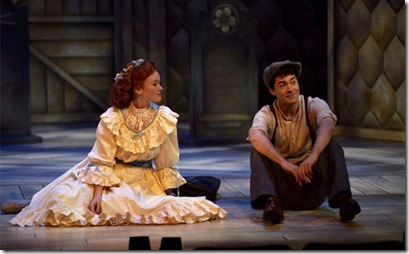 Photo by Andrea Lanthier
Anne and Gilbert co-written by Nancy White, Jeff Hochhauser and Bob Johnston, is a musical sequel to ANNE OF GREEN GABLES and is based on the second and third books in L. M. Montgomery's beloved series. Anne is now grown up but she still marches to her own drummer, especially when it comes to her relationships with the opposite sex. There have been a few changes since I first saw the show in 2007 in Gananoque. The major one is that Diana's Act I solo has been replaced by a duet for Diana, well-played and sung by Brieonna Locche, and Anne. It's about becoming a wife and is by turns entertaining and serious.
Ellen Denny perfectly captures Anne's volatile personality. She has a terrific voice and her solos "Someone Handed Me the Moon Today" and "Forever in My Life" are musical and emotional high points. As Philippa, Amanda LeBlanc does a fine job and has a great time with the tongue-twisting "That Little Fiddle Player." Try singing that 3 times quickly! Unfortunately Paula-Jean Prudat isn't up to the role of Josie vocally – her voice is weak and frequently off-key.
As Gilbert, Alex Furber is appropriately handsome and sings fairly well. Charles Douglas is great fun as Roy, Anne's millionaire beau and David Ross Whiteley does some terrific onstage fiddling as Moody. Bruce Dow is first-rate in multiple roles, especially as the Head Waiter.
Two stand-outs are Allison Woolridge as Marilla and Robin Craig as Mrs. Lynde. Both are accomplished actors and their duet "Our Duty" is wonderfully tongue-in-cheek. Miss Woolridge delivers her solo "When He Was My Beau" with both vocal and emotional power.
My big problem with the production is John Dinning's claustrophobic set. Although beautifully painted, the actors seem dwarfed at the bottom of a giant monochromatic wooden box. There's no sense of the beauty of Prince Edward Island or the sea. The elaborate patterns of the wood make it difficult for designer Leigh Ann Vardy to light, and it's especially apparent when projecting the full moon. It doesn't help that Roger Schultz's Act I costumes are in drab browns, beiges, and other subdued colors.
Music Director Lisa St. Clair has done a fine job, particularly with the Act II opening sequence which is primarily sung and every lyric is clear. The sound by Don Ellis is excellent. Being a former music director, I wonder why the fine trio of instrumentalists is positioned with the conductor's back to the stage.
The choreography by Brittany Banks in Act I is rather repetitive and flat except for "You're Island Through and Through," but is fun and creative in Act II, particularly for "Seesaw Girl" and "May I Offer My Umbrella." Director Martha Irving's staging is also much stronger in Act II. I loved the final proposal. She's also helped her large cast create believable characters.
In spite of an overlong and sometimes slow Act I, the spirit of Anne and the books lives on in this musical version. "Anne and Gilbert" is a tuneful and lively family show, good for the holiday season.
"Anne and Gilbert" – NAC English Theatre Production Runs through Dec. 23
CREATIVE TEAM
Director – Martha Irving
Music Director – Lisa St. Clair
Choreographer – Brittany Banks
Set – John C. Dinning
Costumes – Roger Schultz
Lighting – Leigh Ann Vardy
Sound – Don Ellis
MUSICIANS
Piano – Lisa St. Clair
Violin – Sarah Ross
Cello – Beth Sturdevant
CAST
Sam Ashe Arnold – School Boy
Robin Craig – Rachel Lynde
Ellen Denny – Anne Shirley
Simon Derome – Fred Wright, Alonzo
Bruce Dow – Mr. Sloane, Station Master, Minister, Professor, Head Waiter
Alex Furber – Gilbert Blythe
Petra Ginther – School Girl
Jake Hamilton – School Boy
Celia Koughan – Annetta Bell, Sophomore
Auden Larratt – Paul Irving
Amanda LeBlanc – Philippa Gordon, Mrs. Pye, Barbara
Brieonna Locche – Diana Barry, Sophomore
McKenna Mellon – School Girl, Freshette
Kelty O'Brien – School Girl, Freshette
Maureen O'Brien – School Girl
Ry Prior – Paul Irving
Paula-Jean Prudat – Josie Pye, Sophomore
Clara Silcoff – School Girl
Mike St.Amant – Anthony Pye, Alec
Charlotte VanBarr – School Girl, Freshette
Kelsey Warren – School Girl
David Ross Whiteley – Moody MacPherson
Mikayla Wills – School Girl, Freshette
Alison Woolridge – Marilla Cuthbert