Ottawa Citizen, Dec. 5 2015.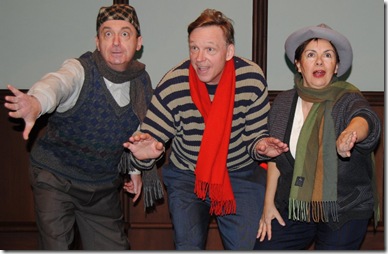 Photographer, Vartanova
Ottawa's Lowertown could be a rough place for 12-year-olds in the mid-1940s. Racism, pitched battles with other kids, nasty teachers: such hurdles sometimes made life something to be survived more than celebrated. But while Angel Square, Janet Irwin's loving and vibrant stage adaptation of Brian K. Doyle's 1984 novel of the same name, sharply limns the rough side of life, it also excites our envy of those urban kids of long ago – their freedom, their resilience, their sense of place and community.
Just as importantly, the family-friendly show makes us appreciate anew Doyle's depiction of the rich imaginative life of Tommy, the story's young hero. Fantasizing himself to be Lamont Cranston, AKA the crime-fighting Shadow of 1930s and '40s radio drama and print fame, Tommy sets out to solve the mystery of who badly beat the father of his best friend, Sammy Rosenberg. That quest in the days leading up to Christmas, 1945 serves as backbone to a fond recreation of life in a now-vanished Ottawa: the original Ritchie Feed & Seed Store on York Street (a Ritchie bag is key to solving the mystery); the squeaky floored Woolworth's and the more upscale Freimans department store on Rideau Street; the vast, echoing Union Station, now the Government Conference Centre.
Irwin, who also directs, has cast just four adult actors to recreate
this world. Bruce Spinney makes an earnestly engaging Tommy despite repeatedly, and distractingly, muffing his lines on opening night. Kristina Watt, Robert Marinier and Mary Ellis shine as a cavalcade of other, strongly wrought characters, from Tommy's schoolmates to various adults. That the actors are all middle aged matters not a whit: suspension of disbelief underpins the show.
Irwin has mounted previous adaptations of Angel Square and, more recently, a fine stage performance of Doyle's novel Up to Low. As she proves again here, she has a wonderful sense of Doyle's puckish storytelling style, his rhythms, his evocative images like the smell of damp fur and wet leather as snow melts on the clothing of Woolworth's shoppers.
Irwin's work is enriched by, among others, Jock Munro's lighting, projections and set, the latter an immense, old-timey wooden radio whose grill doubles as schoolroom windows and a screen for the occasional silhouetted video or vintage photo of Ottawa landmarks.
Warm, joyous and funny, Angel Square is a glittering antidote to December's damp and darkness.
Continues until Dec. 20. GCTC box office, 613-236-5196, gctc.ca
Angel Square
A Great Canadian Theatre Company production
At Irving Greenberg Theatre Centre
Reviewed Thursday
---