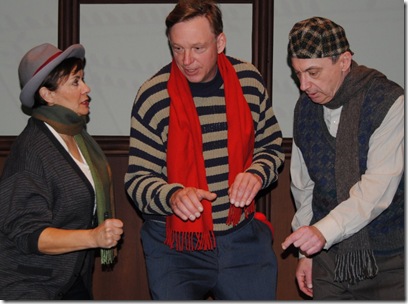 Photo: Barb Gray
Crossing Angel Square in Lowertown Ottawa may have been risky in the 1940s, but, as recalled by Brian Doyle in his 1984 novel and adapted for the stage by Janet Irwin, it was also a place of warm friendships and special connections.
As adapted and directed by Irwin, this delightful dramatization, depicting the daily life of Tommy a.k.a. The Shadow, his friends, enemies and assorted adults, is anchored by solving the mystery of who attacked his best friend's father. Honest in its descriptions of rampant racism and extreme poverty, Angel Square never loses its innocence, charm and puckish humour.
Enhanced by Jock Munro's fine visuals, the set not only evokes a radio of the era but also serves as the focal point for projections of Ottawa landmarks and silhouettes in action.
Bruce Spinney delivers an appealing Tommy — and will likely be even more appealing when he remembers his lines and maintains the rhythm of his characterization — while the three other cast members are his fellow students, teachers, family and other adults. All three, particularly Mary Ellis, are adept at changing character, age and gender with little more than a slight alteration of stance or expression.
A Christmas trip back in time to this Angel Square is definitely worthwhile for the whole family.
Angel Square continues at the Irving Greenberg Theatre to December 20.
Angel Square
Adapted and directed by Janet Irwin
Based on the book by Brian Doyle
A production by the Great Canadian Theatre Company
Set, lighting and projections……….Jock Munro
Sound………………………………Jon Carter
Costumes…………………………..Vanessa Imeson
Cast:
Mary Ellis
Robert Mariner
Bruce Spinney
Kristina Watt