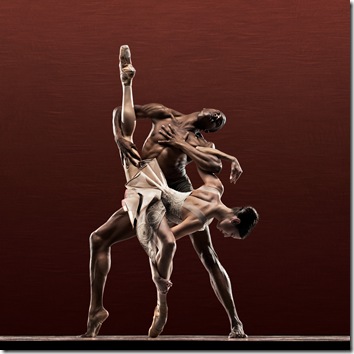 Corey Scott Gilbert and Meredith Webster in Scheherazade
Photo: RJ Muna
Making its NAC Debut, San Francisco's acclaimed Alonzo King LINES Ballet performs Scheherazade and Resin at the National Arts Centre on May 4, 2013
OTTAWA, April 24, 2013 — Making its anticipated NAC debut, Alonzo King LINES Ballet presents a double-bill including an innovative reimagining of Scheherazade. Founder, Artistic Director and choreographer, Alonzo King fuses ancient Persian, Sanskrit, and Arabic stories with ballet filtered through a contemporary lens. In Resin, the company gloriously interprets rhythm and melody in a suite of solos, duets, and ensemble dances. 
Alonzo King LINES Ballet takes to the Southam Hall stage at 2 p.m. and 8 p.m. on Saturday, May 4, 2013. The matinee was added due to popular demand.
Alonzo King LINES Ballet is unique among American ballet companies, gaining notice the world over for its genre-bending, innovative contributions to 21st-century ballet. Recently celebrating its landmark 30th anniversary season, the company is guided by a distinctly global artistic vision. The company's works draw on a diverse set of deeply rooted cultural traditions, imbuing classical ballet with new expressive potential.
In Scheherazade, the original Rimsky-Korsakov score, adapted for Western and Persian instruments by tabla master Zakir Hussain, heightens the work's exotic dreaminess. Musical selections include Sephardic melodies, and archival synagogue recordings from Turkey and Morocco.
As Artistic Director, King actively develops original new works with other artists from diverse disciplines and cultures. King's visionary choreography connects audiences to a profound sense of shared humanity —of vulnerability and tenderness, but also of furious abandon and exhilarating freedom. "My intention was to grapple with the metaphysical meaning behind Scheherazade and present that meaning in its essence. Scheherazade is the symbol of the savior. She weaves tales not to save her own life, but to save humanity from its unending retributive response to injury."
Scheherazade (2009)
Choreography: Alonzo King
Music: Zakir Hussain according to Rimsky Korsakov
Duration: 47 minutes
ABOUT RESIN
Resin (2011)
Choreography by: Alonzo King
Music: Jordi Savall and field recordings of Sephardic music
Duration: 50 minutes
A dancer presses his body into the outline of a cone of light; the halo lifts upwards, a shofar sounds its lament, and Resin begins, moving from intimate duets to the flashing, barely visible footwork of a quartet of dancers. Resin's cohesive suite of dance for solos, duos, and ensembles is almost an hour long, and it is spellbinding throughout. Resin draws from the rich traditions of Sephardic and Jewish culture to weave a tapestry of movement and sounds as full-bodied as its source material. Interested in "singing that is not obsessed with skill but proceeds from the heart," King uses vocal and instrumental music, prayer, and recorded lessons in the Hebrew alphabet punctuated with human breath and the distant rustle of pages turning. The soundscape includes rare archival field recordings interwoven with Judeo-Spanish songs by early-music artist Jordi Savall. It's spiritual and secular, traditional and contemporary, instrumental and a cappella. Alonzo King stirs emotion through the extraordinary physicality of his dancers as the stage is transformed into a shimmering and timeless landscape; consuming and exhilarating. The ballet vocabulary, is passed through a filter that seems to elongate the extensions, add spring to the leaps, and articulate the frequent moves into a modified passé. The aplomb of the dancers is superb. In the finale, rivulets of golden sand cascade downwards in streams of light, bathing dancers in its gritty warmth. As the curtain falls, tiny pellets of hardened resin 'tears' continue to pour from the heavens, suggesting a kind of earthy immortality.
Alonzo King LINES Ballet takes to the Southam Hall stage at 2 p.m. and 8 p.m. on Saturday, May 4, 2013. The matinee was added due to popular demand