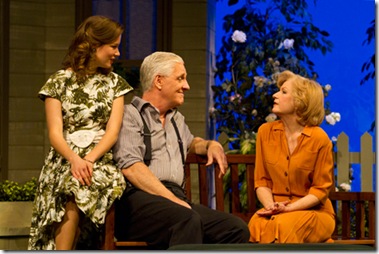 Photo de Maria Vartanova
Family or country? Money or morality? These are the choices at the core of Arthur Miller's 1947 drama All My Sons.Sparked by the case of an Ohio manufacturer, whose daughter reported him to the authorities for supplying the military with faulty machinery, All My Sons was Miller's first award-winning drama.
Like Death of a Salesman (1949), The Crucible (1953) and A View from the Bridge (1955), All My Sons offers a portrait of a society, firmly rooted in its time and place, as well as focusing on human flaws and individuals at a pivotal point in their lives.
The Ottawa Little Theatre production, directed with precision by Joan Sullivan Eady, quickly passed beyond its tentative beginning on opening to night to flourish as a moving drama and overcome such melodramatic moments as the production of a key letter from the son who went missing in action.
With Eady at the helm, the emotional wrenching of the three members of the Keller family is balanced against the visitor from the past's attempts to avoid confrontation and the neighbours' apparent lack of involvement in the conflict that will destroy the family.
Tom Pidgeon's set design, David Magladry's lighting and Robert Krukowski's soundscape enhance the American dream motif and underline the contrast between the all-is-well face Joe Keller's shows the world and the turmoil beneath.
As Joe, Mike Kennedy is believable, convincing in his self-delusion and bonhomie, and even able to draw some sympathy as the broken patriarch.
As his wife, Kate, Cheryl Jackson is an effective counterpoint, while Patrick McIntyre delivers a sensitive, multi-layered portrayal of their son and war veteran, Chris.
As Ann, the former fiancée of Chris's brother (presumed dead by all except his mother) Anne van Leeuwen maintains the requisite calm exterior through the emotional storms.
Most of the remaining members of the cast currently appear less at ease in their roles, but this solid production of All My Sons is a memorable contribution to OLT's 100th anniversary season.
All My Sons continues at Ottawa Little Theatre to January 26.
By Arhtur Miller
Director: Joan Sullivan Eady
Set: Tom Pidgeon
Sound: Robert Krukowski
Lighting: David Magladry
Costumes: Glynis Ellens
Cast:
Kate Keller………………………………………Cheryl Jackson
Joe Keller………………………………………..Mike Kennedy
Jim Bayliss………………………………………Philip Lynch
Frank Lubey……………………………………..Paul S. Washer
Sue Bayliss………………………………………Michele Snyder
Lydia Lubey……………………………………..Krysta Matthews
Chris Keller…………………………………….. Patrick McIntyre
Ann Deever…………………………………..… Anne van Leeuwen
George Deever…………………………………..Danny McLeod