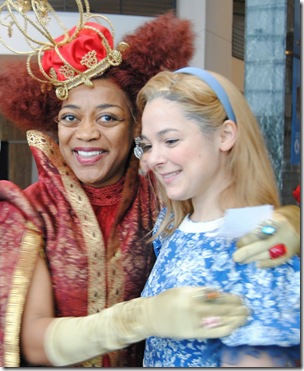 Photographer: Barb Gray. Karen Robinson as the Red Queen, Natasha Greenblatt as Alice.
When Jillian Keiley meets Lewis Carroll and James Reaney, I'm tempted to say that the witty story and vastly playful language of Carroll that hinges on all sorts of sly social comments ("words mean what you chose them to mean" says one of the characters) are soon taken over by a bouncy and colourful staging that plays directly to children's fantasy. There are balloons, flying things , and all sorts of unimaginable props, with Bretta Gerecke's complexly designed and striking costumes , Kimberly Portell's magical lighting , John Gzowski's sound, Jonathan Monro's orchestrations and especially Dayna Tekatch,s choreography, all taking us in various directions at once . The production team stars in this fantasy that leads to pure visual chaos and muddles the narrative but it certainly holds the audience's attention because of the visual excitement it generates, almost for its own sake where staging is based on non-stop gags and costumes that take your breath away.
Obviously the spirit of Carroll has been relocated in the visual which suits a theatrical language for young people because much of the book's wit has a whole level that is not for children.
Alice's stepping through the looking glass brought us into the other world by creating an almost magical transformation. There are lights and soft music, that  carry us through the mirror to the Alice on the other side, as it twirls around drops the young heroine into the world of a huge chess board where everything is inverted. Alice is caught up in the chess game where she has to advance along the board to become a Queen. Natasha Greenblatt holds the stage very well as the self-assured young girl who stands up for what she believes and yet is drawn into her own dream that carries her away to this bubbling  land of pure desire. She meets temperamental chess pieces accompanied by crowds of creatures who fall, roll, leap, run or pedal, as they make their way across the stage and into each other's lives, capturing the confusion of a troubled dream that would seem to be telling us more than we could suspect. At several points, the young audience is literally brought into the fun on stage as they become part of the play…Lots of gasps,squeals and clapping from the seats so it was all great fun for the younger crowd.
The performance took a long time to get off the ground but it gained momentum, bounding into the the second act when it became a series of excellent encounters with some of the best known creatures in the Looking Glass world, performed by actors who captured Carroll's own brand of verbal humour with a Monty Python touch and clown-like antics, sending us back into the original text. One sees just how contemporary Carroll's text is, something that Reaney's adaptation of the book, appears to  highlight.
David Warburton was a magnificent Shakespearian sounding Humpty Dumpty with a wonderful voice, a sense of playful irony, and slow deliberate rhythm that worked to perfection as the big egg manipulated those long skinny arm-like appendages. His costume is one of Bretta  Grecke's great creations in the play. Also good was the number involving the Walrus and the Carpenter  (Ron Klappholz and Andrew Moodie) and a whole chorus of oysters . Poor things  clatter and clack until their empty shells collapse when the little creatures render their souls in a moment that brings us closer to a naughty Dr. Seuss -style humour. The boxing match between the Lion (Andy Massingham) and the Unicorn ( Tawiah McCarthy ) was another excellent moment of choreography and perfectly staged corporeal performance, a place where Massingham excels but where the both actors looked a though they really meant it in a fun sort of way…Very well done that boxing bit! Lois Anderson as the White Queen acting under the headdress that must have weighed a ton was also an excellent performance where her persona went beyond the costume. She could have been wearing anything. she still would have attracted the attention of the whole house. And then there is the White Knight making his way along the chess board as an awkward, lanky , romantic and very lyrical Don Quixote figure played by Alex McCooeye, with pots and pans and other contraptions rattling over the rear end of his trumped up horse. Here the staging has captured the character we remember from the book and McCooye knows how to fumble and bumble so well on stage. But he also has the lyrical qualities of a light opera singer. There is much talent in this fellow! . .
Also striking were the TweedleDee and TweedleDum duo (Herbie Barns and Darrell Dennis) who "danced" their roley poley way around the stage spouting their clipped responses to each other and bringing out the non-sensical sense of their funny text. Nursery tales turned into stand-up comic numbers for adults shows the brilliance of Lewis Carroll's pen and Reaney foregrounded all that very well. Karen Robinson was the perfect tyrannical nanny who morphs into the Red Queen who oddly enough never yelled "off with his head" which is the sentence that most sticks to my mind from that portion of the book.  Perhaps Reaney did not want to upset the children, or else Keiley cut it , so as not to bring up more disturbing images of such practices on recent television news. .
Many more creatures were involved in this but it's enough to say that this is a different sort of show from the ones we usually see during the holiday season and there is no doubt that children from 6 years up will have fun with this. So will the parents if they don't go expecting to find the book, just a lot of stage nonsense that delights the young ones and shows us that the New NAC English theatre ensemble has a lot of excellent talent in its midst.
Alice Through the Looking Glass plays until January 3 in the theatre of the NAC.
Alice Throug the Looking Glass by Lewis Caroll,
Adapted for the stage by James Reaney
directed by  Jillian Keiley.
Featuring the NAC English Theatre Ensemble.
Set and costume Designer                Bretta Gerecke
Choreographer                                   Danya Tekatch
Jonathan Monro                                 Original music and orchestration
Kimberly Purtell                                  Lighting designer
John  Gzowski                                     Sound Designer
Cast:
Lois Anderson                                   The White Queen
Herbie Barnes   and Darrell Denis     TweedleDee and TweedleDum and others…
Natasha Greenblat                             Alice
Ron Kappholz                                    Madd Hatter and Walrus
Andy Massingham                              Lion
Amy Matysio                                     Horse, Fawn/ etc.
Tawiah M'Carthy                               Unicorn,/Tiger etc..
Alex McCooeye                                  White Knight /White paper gentleman
Alex Moodie                                      White King/Goat etc..
Christopher  Morris                            March Hare, Narrator
Karen Robinson                                  Red Queen
Alex Sideris                                        Sheep/Rose/ Pudding etc ..
David Warburton                                Humpty Dumpty /Red King etc….
An NAC English Theatre production in Association with the Stratford Festival