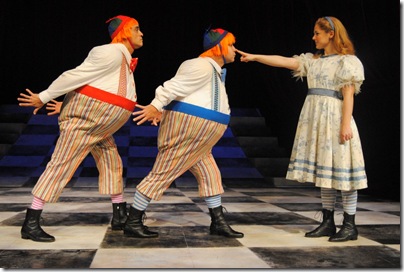 Photo. Barb Gray. Natasha Greenblatt as Alice, Herbie Barnes and Darrell Dennis as TweedleDum and TweedleDee
Jillian Keiley's production of "Alice Through the Looking-Glass," adapted by James Reaney from the Lewis Carroll classic, is awash with ingenious and colorful sets and costumes, audience participation and good music. However Carroll's thoughtful and philosophical parts of the story, even the fact that it's a coming of age for Alice, are drowned out by all the bells and whistles. I'm afraid Alice purists will be dismayed, but this version is great fun and undoubtedly entertaining.
A co-production with the Stratford Festival where it played last summer, it uses the all the technical aspects of that production, but with different actors. Bretta Gerecke's chess board floor slopes upward toward the back, perfect for the Red and White Queens to slide down. The squares even light up as Alice makes her moves.
Set changes are handled by a chorus both male and female all dressed as mirror images of Alice. They often appear on roller skates or bicycles with transparent trees growing out of the handlebars. Miss Gerecke's costumes are equally creative, especially Humpty Dumpty with his ultra-long arms manipulated by two of the Alices. I won't spoil the surprise of what happens to him, but it's hilarious.
Jonathan Monro's music is excellent, particularly under Humpty Dumpty and the White Knight's song. John Gzowski's sound and Kimberly Purtell's lighting are equally effective. Special kudos to the backstage crew of dressers, who have their work cut out with all the wig and costume changes.
Good actors develop characters no matter the size of the role – for example, we know exactly who the Rose is in the deft hands of Alix Sideris. She's also a hoot as the sheep. Darrell Dennis and Herbie Barnes are a lively pair as TweedleDum and TweedleDee in their amazing trousers. With only his face visible, David Warburton creates a believably egotistical Humpty Dumpty.
Lois Anderson does a nice job as the vacant and confused White Queen, complete with a jam jar perched high in her Marie Antoinette wig. The cast stand-out is Alex McCooeye as the White Knight, flinging himself amazingly about while creating a complete character. His song, supported by an all-Alice backup group, is one of the show's high points.
Dayna Tekatch continues to come up with creative choreography. I loved the backing up tap number, the elaborate cape work of the Red and White Knights and the rolling bubble battle. (Don't ask – you have to see it.) Both "The Jabberwocky" and "The Walrus and the Carpenter" were very cleverly staged by either or both Miss Tekatch and Miss Keiley.
Director Keiley has added a couple of spots for children in the audience participate, as we all do when jelly beans float down on tiny parachutes. Having read her rather scholarly Director's Notes, I was a bit disappointed not to clearly see more of Carroll's "deeper philosophies," as she calls them.
In any case, what with bicycles, floating soap bubbles, exploding streamers, toboggans, reversible train cars and spectacular costumes, this is a very entertaining version of the Alice story. Although the production values tend to overwhelm the material, they're so much fun only a Grinch would mind.
Alice  Through the Looking Glass continues until January 3, 1015.
Alice Throug the Looking Glass by Lewis Caroll,
Adapted for the stage by James Reaney
directed by  Jillian Keiley.
Featuring the NAC English Theatre Ensemble.
Set and costume Designer                Bretta Gerecke
Choreographer                                   Danya Tekatch
Jonathan Monro                                 Original music and orchestration
Kimberly Purtell                                  Lighting designer
John  Gzowski                                     Sound Designer
Cast:
Lois Anderson                                   The White Queen
Herbie Barnes   and Darrell Denis     TweedleDee and TweedleDum and others…
Natasha Greenblat                             Alice
Ron Kappholz                                    Madd Hatter and Walrus
Andy Massingham                              Lion
Amy Matysio                                     Horse, Fawn/ etc.
Tawiah M'Carthy                               Unicorn,/Tiger etc..
Alex McCooeye                                  White Knight /White paper gentleman
Alex Moodie                                      White King/Goat etc..
Christopher  Morris                            March Hare, Narrator
Karen Robinson                                  Red Queen
Alex Sideris                                        Sheep/Rose/ Pudding etc ..
David Warburton                                Humpty Dumpty /Red King etc….
An NAC English Theatre production in Association with the Stratford Festival