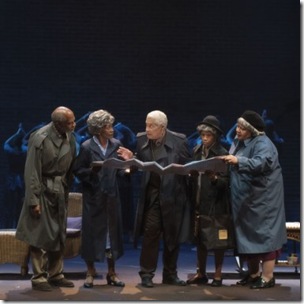 Photo: Black Theatre Workshop
A chorus of ancestors pour down the aisles from the back of the orchestra and converge on stage, all the while their wordless song grows in intensity. From within that rising chorus of ancestors, Rainey Johnson (Lucinda Davis) mimes holding her infant daughter in her arms—a bundle of cloth that is pulled away from her. Rainey loses her young daughter, and the chorus of ancestors encircles her, their a cappella melody meet Rainey's pain with a mournful song. Even the very first scene of the play will send shivers down your spine with its ability to be so deeply emotive, and yet so beautifully constructed.
The new season at the NAC has opened with Adventures of a Black Girl in Search of God, and it sets a high standard for all that is to come. It is an immersive theatrical experience that blends theatre, dance, and song. The result is a seamless performance that is haunting in its depth of portrayal of the human experience of grief. What's more, the play is equally lighthearted, finding humour and joy even in face of terrible pain. This is the power of Governor General Literary Award winner Djanet Sears' impeccably crafted production.
Rainey Johnson is a young mother, a doctor, and wife to a minister who spirals into unfathomable pain when her young daughter dies unexpectedly. Three years later, Rainey returns home to Negro Creek, Ontario. While she is caught in a cycle of grief so agonising that she develops a compulsion to eat the dirt in her hometown—an expression of her desperation for the soil from which she grew into adulthood—her husband, Michael (Quincy Armorer), dutifully leads parishioners toward God, despite his own inability to resolve his faith with his daughter's death. Meanwhile, her father, Abendigo (Walter Borden), and his gang of sprightly seniors liberate emblems, symbols, statues and other artefacts that tokenify Blackness and which have been appropriated by their White neighbours. The script is expansive, weaving faith, grief, the church and black resistance movements into one cohesive play.
While those subjects may seem weighty, this show is rife with humour. The comedy of the play is largely carried by the five members of the "elderly" ensemble, led by Abendigo. Fashioning themselves as a group of trench-coat wearing, code-name donning spies, they scheme ways to liberate African-Canadian paraphernalia. Despite Abendigo's own failing health, and the fact that they are all 70+ years old, they manage a full-fledged liberation campaign; a nod to the resistance movements of their youths.
The real heart of the play is arguably the chorus of ancestors who are expertly choreographed by Vivine Scarlett. These ancestors, dressed in clothing that compliments the grounded yet fluid West African-inspired choreography, work as an ensemble. The dance elements of the production have no distinct beginning or end. Instead, dance and movement are present in every moment of the play. The chorus extends and amplifies Rainey and Abendigo's stories, and sometimes they even become props within it (statues in a museum, for example). All the while, they create a soundscape, co-composed by Sears and Alejandra Nuñez, that underscores and at times contributes to the narrative of the play. When talking about the musical score, it would be a sin not to mention the contribution of the brilliant Jackie Richardson on stage, whose epic, gospel-like, wordless solo will surely carry you away.
The scale of this production is, in itself, impressive; the 22-member ensemble is speckled with beautiful dancers and powerful singers. They create a tremendously powerful atmosphere on stage. While the narrative of the play is compelling in and of itself, the chorus endows the production with a rich atmosphere, and amplifies its symbolic aspects.
Adventures of a Black Girl in Search of God creates a deeply complex experience for the audience and, because of its magnitude and affecting storytelling, will undoubtedly captivate a wide range of otherwise disparate audiences throughout its time on the NAC stage. It embraces the "big questions" about being human, and manages to speak to the universal through the very personal. It is story about faith, pain, love, ancestry, and our ability to find ways to surmount the terrible grief of loss. An immaculate production that will sneak under your skin and stay close to your heart.
The Adventures of a Black Girl in Search of God plays at the NAC English Theatre until November 7.
Creative Team
Writer, Director, Co-Composer Djanet Sears
Co-Composer Alejandra Nuñez
Music Director Andrew Craig
Choreographer Vivine Scarlett
Set and Costume Designer Astrid Janson
Lighting Designer Jason Hand
Sound Designer Peter Cerone
Cast
Troy Adams – M. King, Ancestor, Singer
Kaleb Alexander – Sundiata, Ancestor, Dancer
Quincy Armorer – Michael
Barbara Barnes-Hopkins – Girlene
Walter Borden – Abendigo
Tamara Brown – Martha, Ancestor, Performer
Janelle Cooper – Wheatlyn, Ancestor, Singer
Lucinda Davis – Rainey
Marie-Christine Depestre – Glory, Ancestor, Singer
Lili Francks – Ivy
Trudy Lee Gayle – Lorraine, Ancestor, Dancer
Don Jordan – Ethiopia, Ancestor, Dancer
Evangelia Kambites – Yaayaa, Ancestor, Dancer
Kayvon Kelly – Chancy, Ancestor, Performer
Tristan D. Lalla – Juma, Ancestor, Performer
Amanda LeBlanc – Catherine, Ancestor, Performer
Paula-Jean Prudat – Asibikaashi, Ancestor, Performer
Paul Rainville – Paramedic, Dr. Radcliffe, Guard, Delivery Man, Ancestor
Jackie Richardson – Darese
Saidah Baba Talibah – Salome, Ancestor, Singer
Rudy Webb – Bert
Alison Woolbridge – Nettie, Ancestor, Performer