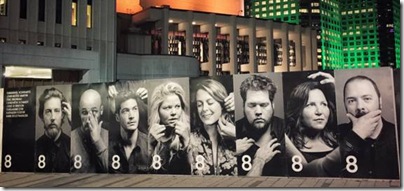 Photo: courtesy of the NAC
February 1–4 at 8 p.m., NAC Studio.
Additional show February 4 at 3 p.m.
Translation of an article from Le Devoir. January 12, 2017 – OTTAWA – Eight actor friends wind up at a party. Stripped of their masks and stage characters, oblivious to the audience, they engage in a frank and uninhibited conversation during an evening that will change them forever.
Mani Soleymanloui, a (young) theatre artist who documented his full-blown identity crisis in his earlier plays Un and Deux, returns to Ottawa with his gang of fellow artists with 8, an investigation of the emptiness of our supposedly modern, hyperconnected world, where paradoxically we all feel so far from each other.
8 is the story of a party. The party where eight friends hope they can forget their doubts and everyday cares by throwing themselves, for the space of an evening, into something bigger than themselves. But how can you get away from what you are? Surely any attempt to escape is futile … No, that's not it. That makes it sound too corny.
8 is the story of a performance. A performance where eight actors deliberately reveal their true selves to the audience—no stage characters, no holds barred. But without their theatrical masks, they struggle for cohesion. Their points of view are so different that they can't agree on the story they want to tell … No, that's not quite it either.
8 is the story of a gang. A company of artists whose members look for ways to link their personal story to the bigger Story unfolding that night. A gang that, to construct a show that blurs the line between truth and fiction, will go so far as to rewrite the sequence of events of an evening that will change them forever … Yeah, that's more like it.
"It will be like theatre within theatre …
The audience will witness the creative process."
Mani Soleymanlou in Le Journal de Montréal [Transl.]
Written by Mani Soleymanlou with input from the actors // Directed by Mani Soleymanlou // With: Éric Bruneau, Guillaume Cyr, Kathleen Fortin, Julie Le Breton, Jean-Moïse Martin, Geneviève Schmidt, Emmanuel Schwartz and Mani Soleymanlou // Assistant director: Jean Gaudreau // Scenography advices: Max-Otto Fauteux // Technical director and lighting: Erwann Bernard // Music: Philippe Brault // Production director: Catherine La Frenière // General secretary: Xavier Inchauspé // photo credits: Jérémie Battaglia and Vincent Poirier // design credit: Uniform
Produced by Orange Noyée // Coproduced by Place des Arts and NAC French Theatre
Running time: 1 hour 30 minutes
INVITATION to a taping of an NAC French Theatre podcast
NAC French Theatre and ICI Radio-Canada invite you to attend a taping of a live session of Plus que du théâtre, which will then be released as an NAC podcast. The event will be hosted by dynamic ICI Radio-Canada Première reporter Julien Morrissette.
Meet and mingle in a relaxed setting with some of the artists featured in French Theatre's current season.
Thursday, February 2 from 12 noon to 1 p.m.
Alliance Française d'Ottawa, 352 MacLaren Street
A conversation about the making of 8 between Mani Soleymanlou, writer, director and actor, and another cast member.
– Free