August, 2017
Reviewed by Jamie Portman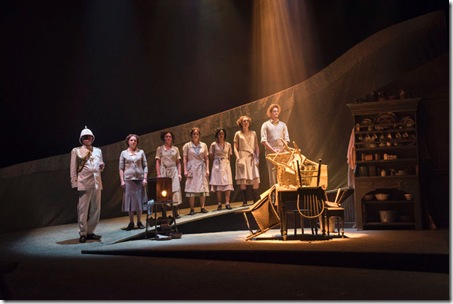 Photo. David Cooper
NIAGARA-ON-THE-LAKE, Ont. — There's Fiona Byrne, poignantly convincing as Kate, the oldest of the sisters and a bundle of laced-in repression. She's a school teacher, painfully aware of being the only real wage-earner of the household at a time of gathering economic travail, devout in her Roman Catholic faith, and fiercely devoted in her own humourless way to her family.
There is Serena Parmar, a mixture of resilience and vulnerability as Chris, the youngest of the sisters. She's the mother of seven-year-old Michael and unemployed — her life on hold because of Michael's vagabond father, Gerry, who is more absent than present in their lives.
And then we have two particularly close sisters  who earn a bit of money by knitting gloves at home and selling them: the quiet and reflective Agnes, whose silences, in Claire Jullien's intricately embroidered performance, tell their own tale. Agnes in her own way is the chief carer for Rose, the sister who has never really grown up: she's portrayed by Diana Donnelly with a joyous, child-like innocence that also leaves you aware of her emotional fragility.
08
Aug
Posted:
August 8, 2017 Tuesday at 12:41 pm
Reviewed by Jamie Portman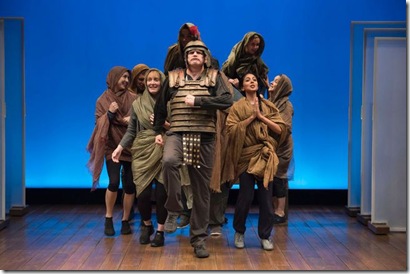 Photo: David Cooper.
NIAGARA-ON-THE-LAKE, Ont. — The other night Tom Pidgeon, the Ottawa Little Theatre's longtime technical director, made a memorable contribution to the Shaw Festival's riotous production of Androcles And The Lion.
He ended up on the stage of the venerable Court House Theatre — playing the lion.
Pidgeon happened to be in the audience that evening, and had been plucked from its midst, equipped with a scrofulous wig and bedraggled tail, and assigned the task of delivering assorted roars, growls and moans until actor Patrick Galligan, in the role of the kindly Christian tailor, Androcles, removed a painful thorn from the creature's paw.
The motley magnificence of Pidgeon's effort earned an appreciative burst of applause before he was allowed to return to his seat and become a member of the audience again. But not an invisible member of that audience — no one in the house really was.
05
Aug
Posted:
August 5, 2017 Saturday at 11:40 am
Reviewed by Laurie Fyffe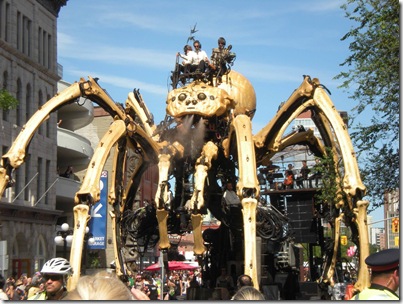 Guest reviewer Laurie Fyffe
Photo: Laurie Fyffe.
La Machine with its dueling dragon and gigantic spider has come and gone, leaving in its wake a flurry of excitement over what one can do with public space. Ottawa audiences came out in droves to witness two fantastical creates enact their fictional quest on Ottawa streets before discovering each other in a grand finale on Lebreton Flats. Given extraordinary license to tie up traffic, two mechanical beings transformed this city's boulevards and multilane, downtown thoroughfares into scenic displays of awe and wonder. Kids were hoisted aloft to gaze at monsters that roared, spewed smoke and arrived in an array of wondrous musical accompaniment.
02
Aug
Posted:
August 2, 2017 Wednesday at 12:57 am