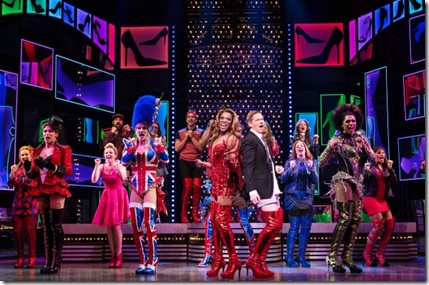 Photo. Courtesy of the NAC.
Kinky Boots, Book by Harvey Fierstein Music and lyrics by Cyndi Lauper, directed and choreographed by Jerry Mitchell
Think watered-down versions of Billy Elliott, mixed with slices of Les Cages aux Folles and Torch Song Trilogy and you have the theme of Kinky Boots, book by Harvey Fierstein, music and lyrics by Cyndi Lauper. Never a drag, though somewhat simplistic in its call for tolerance, the award-winning musical is based on the 2005 movie of the same name. Claimed to be a true story, it tells of two sons who did not want to follow in their fathers' footsteps.
Charlie, the son of a shoe factory owner in Northampton, and Simon, the son of a prize fighter from Clacton, tried to escape their small-town destinies, but when their paths cross, they walk down a new road together, creating kinky boots for cross dressers and drag queens.