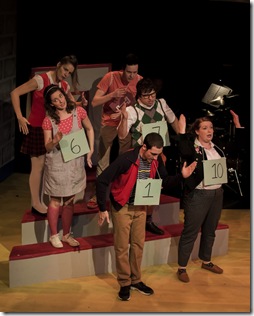 Photo. Courtesy of  Indie women productions.
The world has changed since this Tony Award winning show (book by Rachel Sheinkin, music and lyrics by William Finn) was created in 2005  but  somehow, in spite of Kodi Cannon's exciting  Broadway style energy and classy choreography, this Spelling Bee grated on my nerves. The Indie Women are noted for some fine productions and we loved their recent fund raising event Next to Normal featuring Skye MacDermid and Wendy Berkelaar's  group that did justice to Rebecca Feldman's music, giving a highly professional touch to the evening. As is their custom , the Indie Women  bring us this show as a  fundraiser for the "Do it for Daron"  foundation, linked to the  Royal Ottawa Hospital and its ongoing research into  the devastating effects of mental illness .
This event at the Gladstone  features  six actors as the young constestants all driven to win the  spelling contest for many different reasons, all of which are played out  in flashbacks and choreographed moments of excellent theatre  as the troubled backgrounds of each of the contestants are  intertwined with the funny improvisations produced by  each of the four randomly selected guests who are added to the chorus of spellers. These guests are thrust on stage as the  outside spellers  who do their best to hold their own  spontaneously, while the scripted spellers have to take on a character and explain their choices.