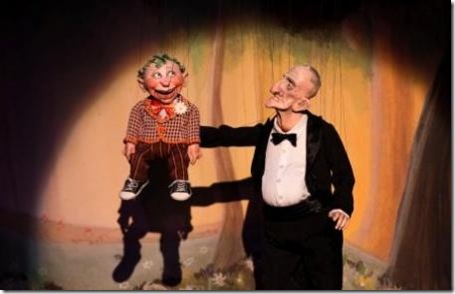 Photo: Alejandro Santiago: Little Woody Lindon and Meyer Lemon.
Ronnie Burkett is back in Ottawa, creating havoc and palpitations as he unleashes his special brand of ferocious humour on our city. This time, our creative genius from Western Canada, has freed himself from a narrative, from a script, from a specific lineup of acts as he puts many of his performance choices in the hands of his favourite audience: menopausal ladies and gay guys!! Yes the audience is offered choices and thus, no one is spared, everyone goes through the Burkett meat grinder this time and one leaves the theatre with one's head twirling!! Such a show!
This time he has created a theatre within his theatre, The Daisy Theatre proscenium puppet arch is set up in the middle of the stage. It features a sequence of performances by his puppet characters drawn from former shows but that appear on their own, putting on their own individual monologues that reveal their naughty secrets, the underbelly of their obsessions, their troubles and their true selves. They are cleansed of any serious narrative that turned them into characters in a play because now, they are on stage as "themselves", that is, as manipulated by Burkett who takes advantage of the situation to confront his puppets, and ultimately to put himself in the foreground. His multiple voices, his flowing monologue, his quick and clever shifting from one situation to another as his characters tumble out nonstop is a marvel to watch and hear. He grabs the various puppets all set up backs stage, hangs over the little puppet stage, gives stage directions to the lighting people to the sound director and off he goes with no apparent prompter of any kind because there is no script as he keeps reminding us.