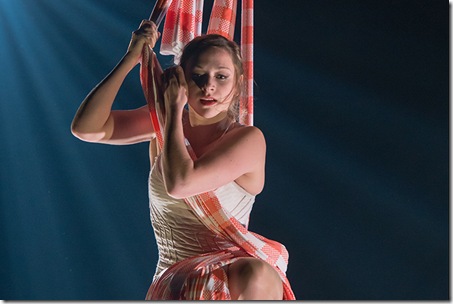 Photo Alexandre Galliez. Performer Anna Kichtchenko
Boston welcomes back Les Sept Doigts de la Main (the Seven Fingers of the Hand) in their latest production Cuisine and Confessions, the fourth circus show that the company has brought to ArtsEmerson. The seven fingers (as the performers are referred to) have grown to nine for their current production. Cuisine and Confessions, like their earlier works, combines acrobatics, dance, song, storytelling, juggling, aerial silks, and occasional live music. Most of the Cuisine and Confessions performers trained at Montreal's National Circus School, which gives a particular unity to their style.
As often the case in contemporary theatre, the immersive show tries to break down the barriers between performers and audience. At the opening, some of the artists play catch with the spectators using props such as balls and eggs, while other artists approach a few spectators to ask if they would like to participate. Those who agree are brought on stage at various junctures, perhaps fed a bit of food, get a few laughs, and return to their seats.