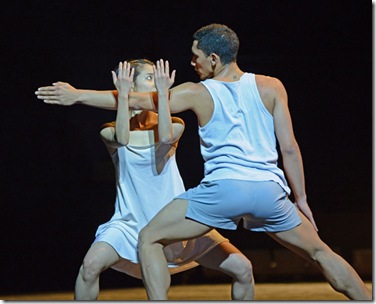 Photo: Dave Morgan
Juliet and Romeo, Mat Ecks
Press release from the XVth edition of the Europe Theatre prize taking place in Craiova Romania (April 23 to 26).
Yana Meerzon will be attending the event from Ottawa and will give us a full description of the conferences and theatre productions.
The events of the XV edition of Europe Theatre Prize and of the XIII Europe Prize Theatrical Realities – the most prestigious European award in the field of drama – will take place in Romania, in Craiova from 23rd to 26th April 2016. The Prize events will take place under the Patronage and the financing of the City of Craiova ("Candidate City – Craiova Cultural Capital of Europe 2021") and in cooperation with the Shakespeare Foundation of Craiova and the "Marin Sorescu" National Theatre of Craiova, which also commit themselves to host and organize the events of Europe Theatre Prize in Craiova, with the contribution too of the Romanian Cultural Institute.