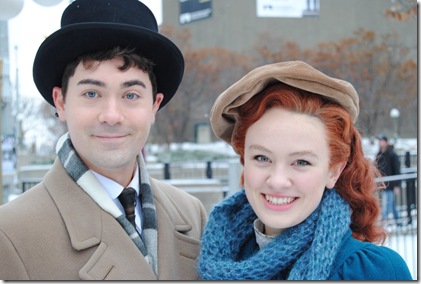 Photos by Barbara Gray
Now a decade after its creation, Anne and Gilbert The Musical is firmly established as not only a worthy sequel to the much loved 1965 musical Anne of Green Gables, but also as a Canadian theatre standard.
Based on Lucy Maud Montgomery's second and third novels about the feisty red-haired orphan, Anne and Gilbert follows her adventures at Redmond (a.k.a. Dalhousie University). She makes a new friend, the wealthy Philippa, finds a new beau in Roy and continues to deny that she loves Gilbert Blythe — when everyone else knows otherwise.
Knowing how the story will end is of no importance. Anne and Gilbert is primarily a celebration of a way of life in a small island village in the early 20th century. (Little wonder that P.E.I. tourism has set up a booth, complete with assorted Anne souvenirs, in the NAC lobby. A catchy number such as You're Island Through and Through tempts you to take a trip to the island.)