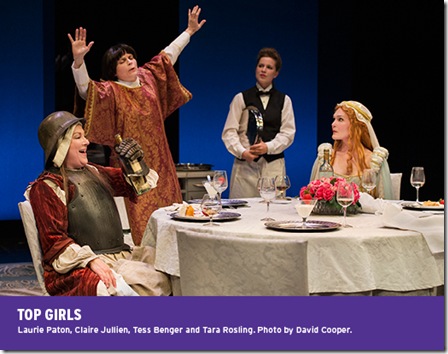 Photo: David Cooper.
NIAGARA-ON-THE-LAKE, Ont. — There's no doubt about it. The Shaw Festival's new production of Caryl Churchill's Top Girls is a dazzler of a show — provocative, invigorating, hilarious, heart-wrenching. It allows us to feast on a seemingly effortless display of stunning ensemble acting that deserves a triple underlining in the memory books.
The show that made a triumphant arrival at the Court House Theatre Saturday night can claim any number of attention-grabbing sequences, thanks to Vikki Anderson's incisive direction and the astonishing work of her seven-member cast, almost all of them in a variety of roles. But there's a particularly pivotal scene involving Marlene, a woman obsessed with proving that women can be a success in business and ruthless in her determination to claw her way to power within the Top Girls Employment Agency.