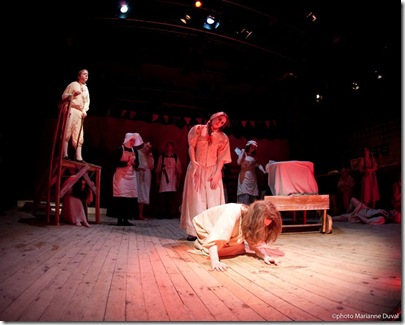 Photo: Marianne Duval
Director James Richardson has given us, as his thesis for an MFA in Directing at the University of Ottawa, a creative, focused and altogether compelling interpretation of Peter Weiss' Marat/Sade.
The insane asylum that Richardson and his cast of student actors conjure is a fevered and dangerous place, a bubbling pot of injustice and brutality that constantly threatens to boil over.
Except for Charlotte Corday (Emma Hickey) – the narcoleptic who rouses herself long enough to murder Marat (Jeremie Cyr-Cooke), the revolutionary idealist with a really bad case of the itches, as he rests in his bath – the stage seethes and jitters with the non-stop twitches and outbursts of the patients. If ever there was a warning to iron-fisted leaders, whether they be political, cultural or of any other stripe, that repression has a limited shelf life, this is it.