October, 2014
Reviewed by Patrick Langston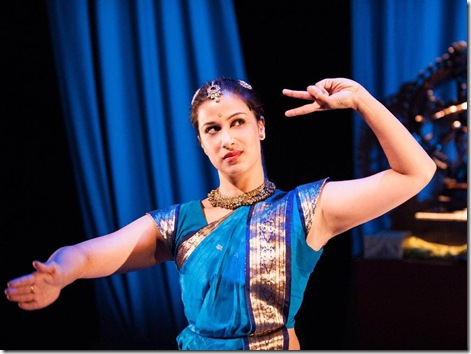 For the Ottawa Citizen.
Photo, Andrew Alexander. Featuring  Anita Majumdar.
Life by its nature is a fraught affair. Try living it as a female Indo-Canadian teenager at predominantly white Port Moody Senior Secondary in British Columbia.
That's the setting for Anita Majumdar's Fish Eyes and Boys with Cars, the simultaneously wonderful and disappointing double bill at the Great Canadian Theatre Company.
Majumdar wrote, choreographed and performs both shows. She blends exquisite Indian dance and acting that's riveting in Fish Eyes but less so in Boys with Cars with issues ranging from teenaged (and, by extension, human) angst to patriarchy and cultural appropriation.
Fish Eyes, which Majumdar has been performing for a decade, finds 17-year old Meena despairing that "everyone's living the dream" – as in making out and drinking beer – while she's preparing to participate in an Indian dance festival.
17
Oct
Posted:
October 17, 2014 Friday at 5:09 pm