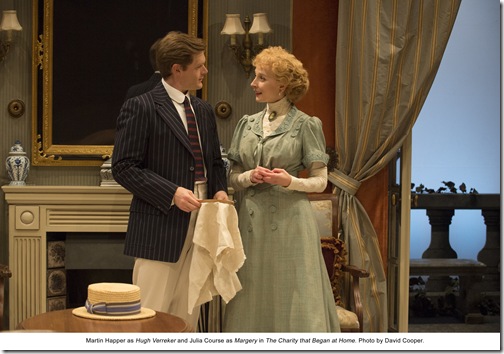 Martin Happer as Hugh Verreker and Julia Course as Margery in The Charity that Began at Home. Photo by David Cooper. .
NIAGARA-ON-THE-LAKE, Ont. — One of the happiest aspects of a Shaw Festival summer is an encounter with its latest archaeological discovery.
The people who run this internationally celebrated theatre are serious about its central mandate — to explore the world of Bernard Shaw and his contemporaries. And that, happily, has led to the rediscovery of neglected dramatists from the past.
When the festival launched a cycle of remarkable plays by Harley Granville Barker, it enjoyed some of the biggest triumphs of its 50-year history. But in the case of the forgotten St. John Hankin, it was rescuing a superb dramatist from an even deeper obscurity.