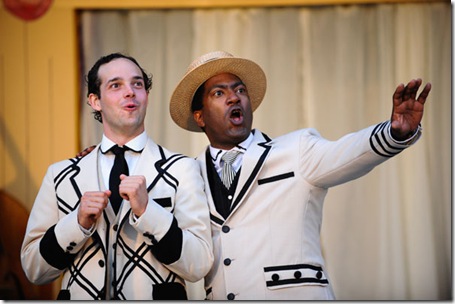 Photo by   Andrew Alexander. Perfoming are Warren Bain & Quincy Armorer
A sparkling and witty production of Shakespeare's "The Two Gentlemen of Verona" is running in rep with "The Tempest" at the St. Lawrence Shakespeare Festival in Prescott, Ontario. If you've never seen what is possibly Shakespeare's first comedy, this is a good production to start out on. Director Ian Farthing has made judicious cuts and tweaks that clean up some problems with the script, particularly the awkward dénouement. He's also set the play in the late 1920s, a perfect period for this light-hearted tale of friendship versus passion.
Andrea Robertson Walker has designed a background set of panels painted with soft pastel colors in art deco style. There's a gauzy curtained entrance up center. The musicians are visible throughout on the center platform. Vanessa Imeson has designed great period costumes in shades of white, cream and beige with deco-like accents of black and brown. She's even come up with what are often neglected – wonderful period shoes for both the men and women.