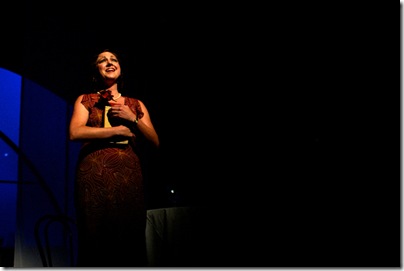 .
Alison MacDonald.  Photo: Jay Kopinski
The 1000 Islands Playhouse is running a wonderful production of the musical romantic comedy "She Loves Me." With music and lyrics by Jerry Bock and Sheldon Harnick, who also wrote, among other, "Fiddler on the Roof," and book by Joe Masteroff, it's always been a favorite of mine. Being a geezer, I saw the original Broadway production in the 60s and, since it's not often done, was really looking forward to this production. I was not disappointed. "She Loves Me" is just as much fun and as tuneful as I remembered.
The plot revolves around two co-workers in a parfumerie in 1930s Hungary who constantly squabble, unaware of the fact that they are each others' anonymous pen pals. Your imagination can take it from there.