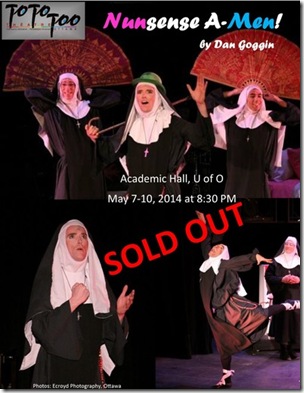 The nonsense of Nunsense has been habit-forming (pun stolen from one of the show's numbers) since 1985, when it first played off-Broadway. Since then, an estimated 25,000 women around the globe have portrayed the good sisters of Hoboken in the show, which originated as a line of greeting cards, before moving to the stage. Nunsense has also given rise to numerous spin-offs. One of these is Nunsense A-men — the original script, presented by an all-male cast — first performed in 1998.
As delivered by Toto Too Theatre in their most recent production, Nunsense A-Men is as funny as ever. In fact, it is sometimes funnier and certainly even more irreverent than its female counterpart.
The main reason this production is never a drag is that the cast seems to be having such a ball. (Red high-top sneakers go so well with a black and white nun's habit and a brightly coloured tutu and pink satin ribbons on ballet shoes really enhance a novitiate's look, don't you think?) The fun and frolic transmit to the audience immediately.
Even when the occasional number is sung with less than maximum punch, the joy remains front and centre. Spattered with double entendres and puns, the series of cabaret numbers presented by the nuns are a desperate attempt to raise the cash to bury the nuns who died after supping on vichyssoise made by the convent cook, Sister Julia, Child of God. (The last four of the 52 who died are stowed in the convent freezer and the nuns have just been given word that the health inspector is on his way…)